The King of Fighters 2001

Last Updated:
11/29/2012
Developer(s):
Breezzasoft
Publisher(s):
Playmore/Eolith
Artwork by:
Nona
Platform(s):
Neo Geo, Dreamcast, Playstation 2
Release Date(s):
November 15th, 2001 (Arcade)
Characters:
Kyo, Benimaru, Daimon, Andy, Terry, Joe, K', Maxima, Whip, Bao, Xiangfei, Ryo, Robert, Hinako, Vanessa, Ramon, Seth, Lin, Mai, King, Yuri, Ralf, Leona, Clark, Heidern, Athena, Kensou, Chin, Iori, Chang, Kim, Choi, Blue Mary, Takuma, Shingo, K9999, Angel, Foxy, Kula, May Lee, Igniz, Original Zero

Featured Video:

Related Games:
King of Fighters '94, King of Fighters '94: Re-bout, King of Fighters '95, King of Fighters '96, King of Fighters '97, King of Fighters '98, King of Fighters '98 Ultimate Match, King of Fighters '99, King of Fighters 2000, King of Fighters 2002, King of Fighters 2002 Unlimited Match, King of Fighters 2003, King of Fighters XI, King of Fighters XII, King of Fighters XIII, King of Fighters: Maximum Impact, King of Fighters: Maximum Impact MANIAX, King of Fighters: Maximum Impact 2, KOF: Maximum Impact Regulation A, King of Fighters: Neowave, King of Fighters EX Neo Blood, King of Fighters EX2 Howling Blood, King of Fighters R1, King of Fighters R2, King of Fighters Collection: Orochi Saga

Gameplay Engine

7 / 10

Story / Theme

8 / 10

Overall Graphics

8 / 10

Animation

7.5 / 10

Music / Sound Effects

8 / 10

Innovation

7 / 10

Art Direction

8.5 / 10

Customization

8 / 10

Options / Extras

7.5 / 10

Intro / Presentation

8 / 10

Replayability / Fun

7 / 10

"Ouch" Factor

8 / 10

Characters

8 / 10

BOTTOM LINE

7.7 / 10

Review based on Arcade version

Final Words:

Overall, I was disappointed with 2001... and kinda got bored with it rather fast. When KOF2001 came out, I still very much preferred KOF 2000 (and previous installments) over 2001... the new Tactical Order System really wasn't to my liking at all (and I know I wasn't the only one). The new characters were entertaining at least, but there were indeed some fan-favorites that were M.I.A. ~TFG Webmaster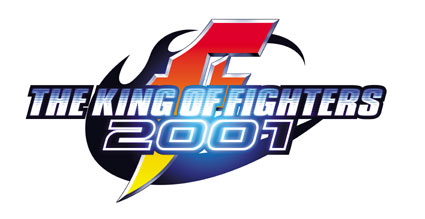 STORY: Time has passed since an entire city was decimated by the now-destroyed Zero Cannon. Another KOF tournament is held and this its hosted by the NESTS organization, the organization behind the events of the previous two games. K' and Maxima return to put an end to NESTS once and for all.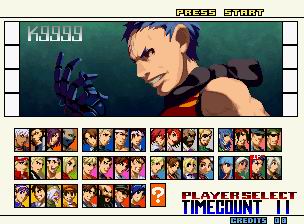 If you've ever seen the anime movie Akira... you'll notice that K9999 is a total Tetsuo rip-off.
REVIEW: The eighth installment to the King of Fighters series was the first game in the series to be produced following the closure of the original SNK. The game was produced by the Korean-based company Eolith and developed by BreezzaSoft, made up of former SNK employees.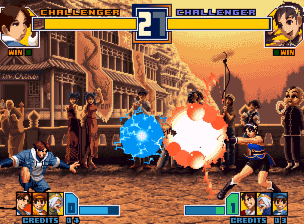 Athena cut her hair?!? Nooooooooo!
Like in the prequel, KOF 2001 lets players create a team of four fighters. Instead of the "three fighters and one striker" format from KOF 2000, this installment introduces the Tactical Order System. This allows the player to select which characters will they control in combat, and which characters will serve as strikers before each match. For example, the player has the choice to form a team of four fighters and no strikers, or even one fighter and three strikers. The number of strikers on the players team will also affect the length and number of stocks of the their Power Gauge. Personally, I wasn't a big fan of this new system... but it was an "interesting" new way to play KOF.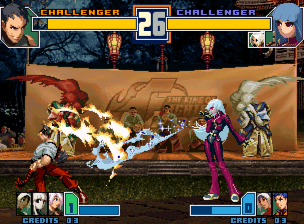 A classic battle of fire VS Ice.
Along with the updated gameplay mechanics, like always, some new faces join the KOF roster, including: Foxy (previously Kula's striker from KOF2000), K9999 (who appears to be based on Tetsuo from Akira), and Angel (a NESTS agent who fights using flashy kicks and wrestling moves). Along with all new backgrounds, KOF 2001 hosts a pretty decent soundtrack... there were some catchy tunes in this game.