The King of Fighters: R-2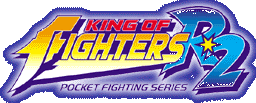 REVIEW: The sequel of King of Fighters: R1 adds a few new characters to the original roster, such as: Kasumi and Saisyu. KOF: R-2 also introduces new backgrounds based on King of Fighters '98.

Chibi-style all the way.

The gameplay is straight forward, and overall it plays a bit smoother than the prequel. The music also improved over the prequel, presenting some familiar tunes that any KOF fan will immediately recognize. KOF: R-1 includes an obscure "Making Mode" which basically allows you to edit a KOF character's skills and rename them... kind of lame if you ask me.

Backgrounds from KOF98!

Graphically, the game looks far better than the prequel... most notably because it added "color"... which, as it turns out, is kind of important.

The cutesy, super-deformed art style is still charming, and gives the game a defined look. All in all, King of Fighters Round 2 is a must have/must play for any KOF fan, and was a great looking handheld fighting game in 1999.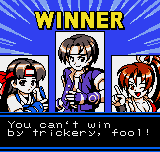 Mai is sooooo cute.
Page Updated:
December 1st, 2012
Developer(s):
SNK
Publisher(s):
SNK
Platform(s):
Neo Geo Pocket
Release Date(s):
March 19th, 1999
Characters:
Kyo, Iori, Ryo, Terry, Chizuru, Yashiro, Shingo, Shermie, Chris, Mai, Kim, Athena, Kasumi, Saisyu, Leona, Rugal

Featured Video:

Related Games:
King of Fighters R1, King of Fighters '98, Fatal Fury: 1st Contact, Gals Fighters, Match of the Millennium , Samurai Shodown!: Pocket, Samurai Shodown! 2: Pocket

Gameplay Engine
7.5 / 10
Story / Theme
6.5 / 10
Overall Graphics
7.5 / 10
Animation
6.5 / 10
Music / Sound Effects
6.5 / 10
Innovation
6.0 / 10
Art Direction
8.0 / 10
Customization
4.0 / 10
Options / Extras
5.0 / 10
Intro / Presentation
6.0 / 10
Replayability / Fun
6.0 / 10
"Ouch" Factor
6.5 / 10
Characters
7.0 / 10
BOTTOM LINE

7.0 / 10

Final Words:
If you can handle the cuteness, KOF: R-2 is a casual and fun handheld fighting game. The NGPC's great d-pad makes classic moves easy and satisfying to pull off. KOF: R-2 was probably the best fighting game to appear on the Neo Geo Pocket before the epic Match of the Millennium showed up.

~TFG Webmaster