The King of Fighters: R-1




REVIEW: The King of Fighters: Round 1 marks SNK's first time bringing the KOF series onto a handheld... and what better system than their own Neo Geo Pocket to do just that? 14 of the most well known KOF characters make their appearance in KOF: R-1, along with some recognizable backgrounds and gameplay features based on The King of Fighters '97. Players can choose from "Extra" & "Advance" play modes similar to KOF '97, and most characters play closely to their original versions.

Chibi-style all the way.

KOF: R-1 came out before the Neo Geo Pocket was in color, so the graphics were a dreary "black & white". Instead of the traditional KOF sprites, all the characters were redrawn "chibi style". The super deformed art style gives the characters a charmingly cute & cuddly big-headed look. It works especially will since the Neo Geo Pocket system itself is an equally cute system.

...Ahh, I love my good old NGPC. The system's d-pad makes classic moves especially fun to pull off.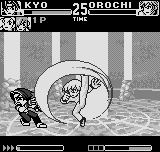 You can see the pain on Kyo's face...

Overall, King of Fighters: R1 is a straight forward 2D fighting game and will be a familiar gameplay experience if you're familiar with series. There's some fan service thrown in for old school fans as well, including some pretty decent endings and artwork.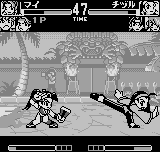 Mai is so cute.
Page Updated:
July 1st, 2010
Developer(s):
SNK
Publisher(s):
SNK
Platform(s):
Neo Geo Pocket
Release Date(s):
October 28, 1998
Characters:
Kyo, Iori, Ryo, Terry, Chizuru, Yashiro, Shingo, Shermie, Chris, Mai, Kim, Athena, Leona, Orochi

Featured Video:

Related Games:
King of Fighters R2, King of Fighters '97, Fatal Fury: 1st Contact, Gals Fighters, Match of the Millennium , Samurai Shodown!: Pocket, Samurai Shodown! 2: Pocket

Gameplay Engine

6.5 / 10

Story / Theme

6.5 / 10

Overall Graphics

7.0 / 10

Animation

6.0 / 10

Music / Sound Effects

6.0 / 10

Innovation

5.0 / 10

Art Direction

7.5 / 10

Customization

4.0 / 10

Options / Extras

3.0 / 10

Intro / Presentation

5.0 / 10

Replayability / Fun

5.0 / 10

"Ouch" Factor

6.0 / 10

Characters

6.5 / 10

BOTTOM LINE

6.3 / 10

Final Words:
KOF: R-1 is a clever tribute to the KOF series and a decent handheld fighter for the time. Flaws? The character count was a bit low considering the series, and the gameplay system & speed could use some tweaking. And probably the main flaw of this title is that it's in black & white. Thankfully, the sequel King of Fighters R-2 improved on all of these factors.

~TFG Webmaster