Garou: Mark of the Wolves

Last Updated:
3/22/2013
Developer(s):
SNK
Publisher(s):
SNK
Artwork by:
Takkun
Platform(s):
Neo Geo, Dreamcast, Playstation 2, Xbox 360 (XBLA)
Release Date(s):
November 11th, 1999 (Arcade)
February 25th, 2000 ( NeoGeo)
September 21st, 2001 ( Dreamcast)
November 23rd, 2001 ( Dreamcast)
June 30th, 2005 ( PS2)
June 24th, 2009 (/ XBLA)
Characters:
Terry Bogard, Rock Howard, Dong Hwan, Hotaru Futaba, Marco Rodriguez, Hokutomaru, Kevin Rian, Freeman, Tizoc, B. Jenet, Gato, Jae Hoon, Grant, Kain R. Heinlein

Featured Video:

Related Games:
Fatal Fury, Fatal Fury 2, Fatal Fury 3, Fatal Fury Special, Real Bout Fatal Fury, Real Bout Fatal Fury Special, Real Bout Special: Dominated Mind, Real Bout Fatal Fury 2, Fatal Fury: Wild Ambition, Fatal Fury: 1st Contact, King of Fighters '99, Street Fighter 3, Street Fighter 3: 3rd Strike, Art of Fighting 3, SNK VS Capcom: Match of the Millennium, Capcom VS SNK

Gameplay Engine

9.5 / 10

Story / Theme

10 / 10

Overall Graphics

9.5 / 10

Animation

9.5 / 10

Music / Sound Effects

9 / 10

Innovation

9 / 10

Art Direction

9.5 / 10

Customization

8.5 / 10

Options / Extras

8 / 10

Intro / Presentation

10 / 10

Replayability / Fun

9.5 / 10

"Ouch" Factor

9 / 10

Characters

9.5 / 10

BOTTOM LINE

9.7 / 10

Review based on Arcade version

Final Words:
Garou is simply an awesome and inspiring fighting game that made a statement in the 2D fighting game genre. If you haven't put some quality time into Garou, you're missing out on one of SNK's all time best 2D fighting games. SNK answered Capcom's SFIII in a big way, which isn't an easy task by any means. The characters, the animation, the backgrounds, the music... this game's got it all.

Garou is still one of my all time favorite classic 2D fighting games... and I really wonder why SNK hasn't released any sort of sequel (although one has been rumored for years). Ahh well, there's nothing much else to say besides... "Ahhh you Okaaay??? BUSTAAAAH WOOOLF!!!" (one of the best super moves ever, for your information.)

~TFG Webmaster

.
.

STORY: 10 years after crime lord Geese Howard's death, the city of Southtown has become more peaceful leading it to be known as the Second Southtown (having formerly been corrupted by Geese). However, a man named Kain R. Heinlein wants to take revenge on Geese for the poverty-stricken childhood he suffered and aims to become the new lord of Southtown, more violent than Geese. Wanting to find Geese's son, Rock Howard, and understand the meaning of his legacy, Kain creates a new fighting tournament called "King of Fighters: Maximum Mayhem". With the tournament and information about Rock's mother, Kain aims to make Rock join him in investigating Geese's legacy.

An entirely original cast... and Mr. Terry Bogard.
REVIEW: Considered to be "Fatal Fury 4" by many, Garou: Mark of the Wolves is easily one of SNK's most polished fighting games. Garou was clearly SNK's answer to Capcom's epic Street Fighter III series, and not only does Garou maintain the awesome fluid animation that rivals SFIII (as well as SNK's own AOF3), but it also packs some engagingly deep and strategic gameplay, in which button-mashers will have absolutely no chance against seasoned players... my kind of fighting game indeed.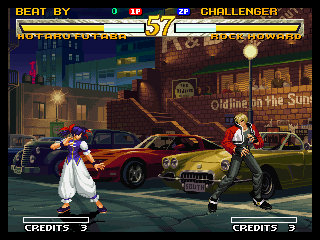 Rock's BGM is undeniably one of the best ever.
Garou is hands down one of SNK's best-looking fighting games. All stages are introduced with unique introduction movies, complete with moody background sounds which define the setting before each fight. Every single background is meticulously detailed from every angle and have amazing depth for a 2D fighting game (especially in 1999). Each background is perfectly fitted for each individual character and a lot of the background music (and the intro song) is incredibly catchy and very well designed.

The character designs themselves are also overflowing with personality... Garou's characters actually have a lot in common with Street Fighter III: New Generation characters, in the way of being inspired by classic fighting game icons. Newcomers like Marco Rodriguez, Dong Hwan and Tizoc, are the "new generation" of SNK fighters who take the place of, in this case, Ryo Sakazaki, Kim Kap Hwan and Big Bear (all of which are former Fatal Fury characters whom use the same core fighting styles). The only returning character is Mr. Terry Bogard, SNK's original fighting game hero and fighting game icon, who debuted in Mark of the Wolves with a brand new appearance and some awesome new attacks... a pretty gutsy move from SNK in '99, but it paid off!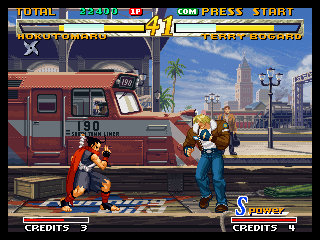 Terry loves his train top battles.
The gameplay is rock solid and certainly of the best we've seen from SNK. Garou introduces the "Tactical Offense Position" (T.O.P.) which is a highlighted area of the life gauge. When the life gauge reaches this area, the character enters the T.O.P. mode, giving character the ability to use a special attack, as well as gradual life recovery & increased attack damage! Depending on where you select your T.O.P. position is a strategic element of the gameplay that really gives Garou it's own flavor.

The 4-button layout is similar to the KOF series, but characters are more well rounded and have a wide variety of command priority moves. Each character also boasts incredibly stylish special and super moves which seem to make a statement. All characters also have a variety of alternate priority attacks when fighting their opponent "in close," which are great for setting up combos. Even with the absence of so many classic Fatal Fury characters, this new roster of SNK fighters doesn't disappoint; and as a whole, holds their own and make for a very well-balanced game. Hit effects also are done amazingly well and nearly all the attacks in this game never fail to make you say ouch!