Capcom VS SNK 2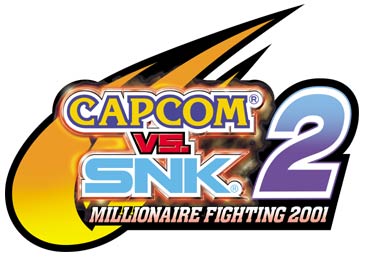 .



REVIEW: The much anticipated sequel to the original Capcom VS SNK crossover, Capcom VS SNK 2 stormed into arcades and consoles in 2001. CVS2 added a generous amount of new characters from both companies, including fan favorites like: Haohmaru, Rock Howard, Yun and Kyosuke. With CVS2, Capcom finely tuned the gameplay system and released a much more playable and fun 2D fighting game over the prequel.

Love that selection screen.
Now there are six different "grooves" to choose from after you select your character, instead of the lone 2 we had to choose from in the first game. Each groove represents a different Capcom or SNK fighting game power gauge. On Capcom's side, there's C-groove (Street Fighter Alpha 3 style), A-groove (Street Fighter Alpha 3 V-ism style), and P-groove (Street Fighter III style). On SNK's side, you can pick from S-groove (KOF/AOF style), N-groove (classic KOF style), or K-groove (Samurai Shodown style). The cool thing is that any character from either side can use any of the grooves which makes for tons of possibilities.
The ratio system from the first Capcom VS SNK was greatly improved upon, with CVS2 now featuring a "free" ratio system. You can assign ratio points to your team of characters several different ways, basically, selecting who on your team will have the most damaging hits. You still assign your points 2 + 2 (for a team of 2 characters), 1 + 3 also 2 characters), 1 + 1 + 2 (a team of 3 characters), or simply 4 (and fight with 1 all-powerful character). The ratio system is actually fun this time around, it obviously offers more balanced gameplay that what we had in the prequel. If the ratio system isn't to your liking, the home console versions also include a traditional 3-on-3 match with no ratios assigned!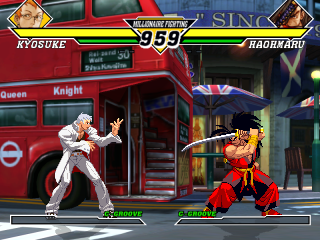 Freakin' Kyosuke & Haohmaru... in the same game!?
The graphics are sharp overall, featuring nicely drawn 2D sprites set on top of well rendered 3D backgrounds. The stages offer decent variety... some are action packed with a lot going on in the background, some more quiet and serene... a good mix overall. The BGM's are a mixture of R&B and techno and are decent tunes, but not quite as good as those found in the original Capcom VS SNK (in my opinion). The sound effects and character voices are top notch however, which was a real hit or miss with this game. Thankfully, characters sound like they should, which is a very important thing in a fighting game like this. The new characters introduced are represented very well, and returning characters now have more of their classic moves and combos, fighting much more like did from their original games... another huge improvement over CVS.

New characters like Haohmaru, Hibiki, Kyosuke, & Rock bring some much appreciated variety, all packing convincing fighting styles and flashy super moves. Unfortunately, the balance of this game is slightly thrown off by certain characters, particularly those from the Street Fighter Alpha series (like Sagat & Blanka (due to their ridiculous priority). Of course all characters can be played effectively, and it also depends on which groove you pick. I personally like P-groove for the parrying, even though it's much harder to parry than in Third Strike; but it can be done with practice. Actually, the fact that parrying can be done in CVS2 makes the game a lot more fun in my opinion. Learning some A-groove combos can also be fun, which offers some insane air combo possibilities & corner traps.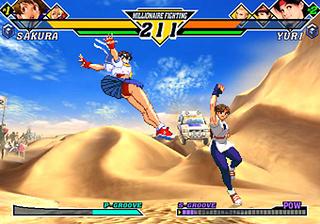 Panty shot FTW.

Last Updated:
3/20/2013
Developer(s):
Capcom
Publisher(s):
Capcom
Designer(s):
Hideaki Itsuno
Artwork by:
Kinu Nishimura, Shinkiro
Platform(s):
Arcade, Dreamcast, Playstation 2, Gamecube, Xbox, PSN
Release Date(s):
August 2001 (Arcade)
September 13th, 2001 ( PS2/DC)
November 6th, 2001 ( PS2)
November 30th, 2001 ( PS2)
July 4th, 2002 ( GC)
August 30th, 2002 ( GC)
September 23rd, 2002 ( GC)
January 16th, 2003 ( Xbox)
February 11th, 2003 ( Xbox)
March 7th, 2003 ( Xbox)
September 2012 ( PSN)
April 2013 ( PSN)
Characters:
Ryu, Ken, Chun-Li, Guile, Dhalsim, Blanka, Zangief, Sakura, Cammy, Balrog, E. Honda, Bison, Sagat, Vega, Morrigan, Akuma, Kyo, Benimaru, Terry, King, Yuri, Ryo, Mai, Raiden, Iori, Kim, Yamazaki, Vice, Geese, Rugal, Nakoruru, Yun, Rolento, Kyosuke, Maki, Eagle, Dan, Hibiki, Haohmaru, Rock, Todo, Chang, Joe, Athena, Evil Ryu, Orochi Iori, Shin Akuma

Featured Video:

Related Games:
Capcom VS SNK, Capcom VS SNK: Pro, SNK VS Capcom Chaos, Match of the Millenium, Card Fighters Clash, Card Fighters Clash 2, Card fighters Clash DS

Gameplay Engine

9 / 10

Story / Theme

8 / 10

Overall Graphics

8.5 / 10

Animation

8 / 10

Music / Sound Effects

8 / 10

Innovation

8.5 / 10

Art Direction

9 / 10

Customization

9 / 10

Options / Extras

8 / 10

Intro / Presentation

8.5 / 10

Replayability / Fun

9 / 10

"Ouch" Factor

8 / 10

Characters

9.5 / 10

BOTTOM LINE

8.9 / 10

Review based on PS2 version

Final Words:
CVS2 isn't the most amazing looking 2D fighting game around, but it has great variety and is one of the most fun "traditional" 2D fighting games I've played in years. It's a fun game in casual play, but somewhat of a mess in high-level, tournament play... where pokes are over-used and "easy to use" grooves, combos, & overpowered characters are usually picked to dominate... come on guys, stop picking Sagat.

Then there's "roll canceling," another flaw in the gameplay which allows players to dodge enemy attacks and quickly counter, and causes certain attacks to have unintended invulnerability. Even considering the flaws, CVS2 is a very solid and competitive fighting game on all levels, and a huge fan-service to those of us that love both Capcom and SNK fighting games.

~TFG Webmaster