Battle Arena Toshinden 3

Last Updated:
1/7/2011
Developer(s):
Takara
Publisher(s):
Takara (), Playmates (), SCEE ()
Platform(s):
Playstation
Release Date(s):
December 27th, 1996 ()
January 31st, 1997 ()
March 1997 ()
Characters:
Abel, Adam, Atahua, Balga, Bay Hou, Chaos, Cuiling, David, Duke, Eiji, Ellis, Gaia, Judgement, Kayin, Leon, Miss Til, Mondo, Nagisa, Naru Amoh, Rachael, Rungo, Schultz, Sizuku Fuji, Sho, Sofia, Tau, Ten Count, Toujin, Tracy, Veil, Vermillion, Zola

Featured Video:

Related Games:
Battle Arena Toshinden, Battle Arena Toshinden 2, Battle Arena Toshinden 4 , Bushido Blade 2, Soul Blade, Star Gladiator, Mace: The Dark Age, Mortal Kombat 4, Tekken 3

Gameplay Engine

5.5 / 10

Story / Theme

4.5 / 10

Overall Graphics

5.5 / 10

Animation

5 / 10

Music / Sound Effects

5 / 10

Innovation

6.5 / 10

Art Direction

8.5 / 10

Customization

4 / 10

Options / Extras

5 / 10

Intro / Presentation

7.5 / 10

Replayability / Fun

5.5 / 10

"Ouch" Factor

6 / 10

Characters

6.5 / 10

BOTTOM LINE

6.4 / 10

Final Words:
Third times a charm? Not quite.... Toshinden 3 packs some nostalgia value for fans of the first 2 installments, but it's certainly not the best. BAT3 has tons of characters, yes, but most of which borrow fighting styles from the core characters.

There are a few enjoyable character designs & special moves... and some of the gun totting characters offer some interesting play styles. Overall, it's a game worth trying, but the lasting appeal just isn't there.

~TFG Webmaster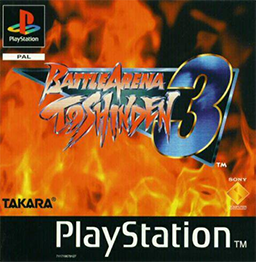 .

.



STORY: Unknown to the participants, while the previous "tournament" was occurring, they were being watched by another sinister group simply known as the "Organization". The Organization intended to summon their dark god to earth in order to wreak havoc. In order to do this they needed a pure-hearted boy to use as a vessel and the blood of strong fighters. For the former they targeted a boy named David. For the latter, they chose the Toshinden fighters. The Organization trained assassins in the Toshinden fighters' fighting styles. Led by their leader Abel, they set out to try and capture the Toshinden fighters.

REVIEW: The third installment to the series adds a ton of new characters, making for a 32 character strong roster. New gameplay features include stages with walls & ceilings, promoting new combo possibilities and giving the title some originality points. Fights by default are 1 round with no time limit, also a unique layout for a fighting game.

Gotta love that font.
As a whole, the gameplay still feels like the same old 3D engine that anyone who played the first 2 games would expect. Each character has their typical special moves, super moves, combo strings, and even some taunts. To me, the most unappealing aspect of Toshinden 3's gameplay is the fact that the super moves of Toshinden 3 were incredibly easy to pull off. In a nutshell, Toshinden 3 wasn't nearly as technical as other fighters at the time. "As a console fighting game" it wasn't terrible, and even brought some nostalgia factor to those that enjoyed the first two titles.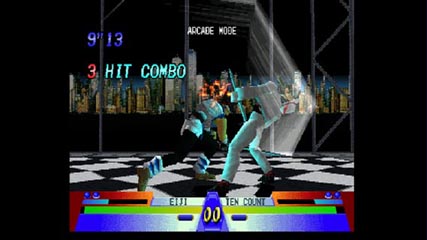 Michael Jackson is in this game
Worth mentioning, Toshinden 3 featured a (laughable) graphics selection mode... the game is 30 frames per second by default, which makes the blocky backgrounds & characters look semi-halfway-decent, if that... but the frame rate (and gameplay) is noticeably more sluggish on that setting. Or you can switch it to 60 frames per second and make the graphics look even worse, but at least can play it at a respectable.

In either case, graphically, the original Toshinden actually looks better in some ways... how is that even possible? Takara made it possible.

The North American and European releases of Toshinden 3 featured several differences to the original Japanese release. For one, blocking high or low was made automatic in the US & EU releases (pressing back would block both block high & low attacks). In the Japanese version one had to press back and down to block low attacks. This small different has a dramatic impact on character balance, arguably breaking the game. When hit by a reversal attack in the Japanese version of the game, how far your character flies is determined by his or her weight. In the US & EU versions, all characters fly the full length of the arena.