Marvel Super Heroes

Last Updated:
12/19/2012
Developer(s):
Capcom
Publisher(s):
Capcom
Designer(s):
Takeshi Tezuka, Tetsuya Iijima, Atsushi Tomita, Kiyoshi Nishikawa, Kei Hiratou, Satoru Kimura
Platform(s):
Arcade, Playstation, Sega Saturn, PSN, XBL
Release Date(s):
October 24th, 1995 ( Arcade)
November 1995 ( Arcade)
August 8th, 1997 ( Saturn)
September 25th, 1997 ( PS1)
September 29th, 1997 ( PS1/Saturn)
September 25th, 2012 (PSN - in MVC: Origins)
September 26th, 2012 (XBL - in MVC: Origins)
Characters:
Hulk, Wolverine, Spider-man, Magneto, Juggernaut, Iron-man, Psylocke, Captain America, Shuma-Gorath, Blackheart, Dr. Doom, Thanos, Anita

Featured Video:

Related Games:
X-Men: Children of the Atom, X-Men VS Street Fighter, Marvel Super Heroes VS Street Fighter, Marvel VS Capcom, Marvel VS Capcom 2, Marvel VS Capcom 3, Ultimate Marvel VS Capcom 3, King of Fighters '95, Darkstalkers 2, Fatal Fury 3, Street Fighter Alpha, Mortal Kombat 3, Killer Instinct 2

Gameplay Engine

8.5 / 10

Story / Theme

9.5 / 10

Overall Graphics

9 / 10

Animation

10 / 10

Music / Sound Effects

9 / 10

Innovation

9.5 / 10

Art Direction

10 / 10

Customization

6.5 / 10

Options / Extras

7 / 10

Intro / Presentation

9 / 10

Replayability / Fun

8 / 10

"Ouch" Factor

9 / 10

Characters

8.5 / 10

BOTTOM LINE

8.8 / 10

Review based on Arcade version

Final Words:
Fans of X-Men: Children of the Atom might've felt a bit disappointed since many of the characters from that game were missing in MSH. Clearly, Capcom wanted to focus mainly on the "big names" of Marvel this time around. Even with the smaller character roster, MSH felt more comprehensive than Capcom's first Marvel fighting game. Thanks to the solid visuals and gameplay, Capcom had themselves yet another "hit" in the mid 90's arcade scene (and later on home consoles).

Marvel Super Heroes was yet another stepping stone in what would soon become known as the Versus Series. The characters of Marvel Super Heroes would later appear in future titles, such as: Marvel Super Heroes VS Street Fighter and Marvel VS Capcom.

~TFG Webmaster



STORY: The story behind Marvel Super Heroes is inspired by the famous comic saga called the Infinity Gauntlet, published in 1991. This gauntlet is wielded by Thanos and allows him to use all the Infinity gems simultaneously.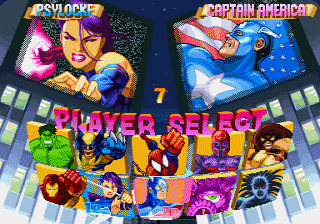 T'was an amazing selection screen.
REVIEW: In December 1994, Capcom wowed Marvel and Street Fighter fans alike with X-Men: Children of the Atom. With the game's brilliant animation and fast-paced gameplay, Capcom proved they could make a high quality 2D fighting game using Marvel's trademark characters alone. To further prove what they could do with the Marvel license, Capcom brought together an even more iconic cast of Marvel characters with their latest Marvel fighting game, including the likes of: Spider-Man, The Hulk, and Captain America. Capcom's second attempt at a Marvel themed fighter raised the bar yet again in the 2D fighting game realm.

Huge & colorful character sprites, all well animated.
Not only did Marvel Super Heroes look incredibly stylish and smooth in 1995, the gameplay system offered more than most 2D fighters of the time. With a more solid and intuitive air-combo system, some of the flashiest and most dramatic super and special moves ever seen in a 2D fighting game, and the ability to pick up and use "Infinity Gems" to enhance your character's abilities mid-fight, needless to say... Marvel Super Heroes was a great improvement over X-Men: Children of the Atom.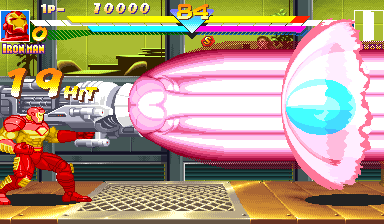 Ohh... and hugely epic super moves, too.
The Infinity Gems that players can use during gameplay include: Time Gem (allowing faster movement speed), Space Gem (enabling super armor), Soul Gem (life recovery), Power Gem (powered-up attacks), Reality Gem (additional attack effects), and the Mind Gem (allows character to recover 2 energy levels very quickly). Overall, Marvel Supers Heroes is a fighting game anyone can pick up and play, but contains a fair amount of depth for the hardcore players as well. Indeed, there are some cheap infinite combos and tricks that highly skilled players can use to dominate (which you'll only see in high level play).