Bloody Roar 3

Last Updated:
10/2/2011
Developer(s):
Hudson Soft, Eighting
Publisher(s):
Activision
Platform(s):
Playstation 2, Gamecube, Xbox
Release Date(s):
March 1st, 2001 ( PS2)
June 25th, 2001 ( PS2)
March 18th, 2002 ( GC)
April 25th, 2002 ( GC)
May 27th, 2002 ( Xbox as BR: Extreme)
July 17th, 2003 ( Xbox as BR: Extreme)
Characters:
Yugo, Alice, Long, Shen Long, Uriko, Gado, Bakuryu, Busuzima, Jenny, Shina, Stun, Uranus, Xion

Featured Video:

Related Games:
Bloody Roar, Bloody Roar 2, Bloody Roar: Primal Fury, Bloody Roar 4, Mortal Kombat: Deadly Alliance, Soul Calibur 2, Virtua Fighter 4: Evolution, Tekken 4

Gameplay Engine

5.5 / 10

Story / Theme

4 / 10

Overall Graphics

7 / 10

Animation

6.5 / 10

Music / Sound Effects

5 / 10

Innovation

6 / 10

Art Direction

4.5 / 10

Customization

5 / 10

Options / Extras

6 / 10

Intro / Presentation

7.5 / 10

Replayability / Fun

4 / 10

"Ouch" Factor

5 / 10

Characters

5.5 / 10

BOTTOM LINE

5.8 / 10

Review based on PS2 version

Final Words:
Bloody Roar 3 is the best of the series, but more of the same.... The "who-can-get-their-super-move-off-first" gameplay leaves much to be desired from a serious fighting game player. Like the prequels, Bloody Roar 3 is geared towards casual gamers... and towards those who are amused by giant lions, tigers, and bunnies whom walk upright, wear human cloths, and don't do anything besides kick the crap out of each other. *crickets*

Anyone who's been exposed to more technical, more dynamic fighting games will quickly pass on the Bloody Roar 3. If you want something completely different from the norm, and something a little more "button-masher-friendly," Bloody Roar 3 might be your cup of tea.... Key word: Might.

~TFG Webmaster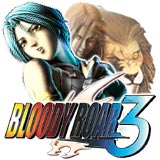 .

.


REVIEW: The first in the series to receive a "next gen" upgrade, Bloody Roar 3 continues on the series' considerable success as a console fighting game franchise. Bloody Roar finally received the graphical makeover it so sorely needed, now using the System 246 graphics engine. The graphics have improved immensely & characters are dramatically re-imaged for the most part. However, comparatively to other console fighting games at the time, it still isn't nearly the best looking one.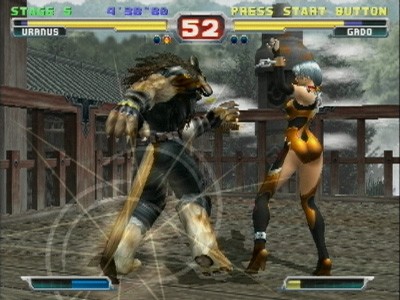 Uranus... still makes me laugh.
The gameplay improved a bit over the past two games, featuring a more solid combo system, better sidestep game, and flashier special/super moves. Now, when you activate your "beast form," you can sacrifice your entire store of beast energy and unleash a "beast drive," a super move that can do upwards of 20 hits if it connects... and honestly, that's about as exciting that Bloody Roar 3 gets. Yup.

The gameplay is pretty basic for a 3D fighting game, and relies heavily on "who can get their super move off first".

Transforming from human to beast over & over again also gets old very quickly and soon seems to be more of a gimmick rather than an actual, though-out fighting game mechanic.


Xion... the cool new boss of Bloody Roar.
Bloody Roar 3's animation is fairly decent overall, but attacks severely lack "ouch factor"... moves just don't seem to connect like they should and many don't seem to hurt very much at all. Character win poses and other animations also seem robotic and "last gen". Music and sound effects are status quo, but are the best of the series at series. Stage designs are a mixed bag and are on the generic side, but are also the best the series has seen. In closing, if the characters of Bloody Roar aren't your cup of tea, you should know what to expect out of Bloody Roar 3, because it's more of the same.