Virtua Fighter Remix

Last Updated:
1/10/2011
Developer(s):
Sega AM2
Publisher(s):
Sega
Designer(s):
Seiichi Ishii (main designer), Yu Suzuki (director)
Platform(s):
Arcade, Sega Saturn
Release Date(s):
July 14th, 1995 ( Saturn)
1995 ( Arcade/Saturn)
Characters:
Akira, Jacky, Kage, Lau, Jeffry, Sarah, Wolf, Pai, Dural

Featured Video:

Related Games:
Virtua Fighter, Virtua Fighter 2, Virtua Fighter Kids, Virtua Fighter 3, Virtua Fighter 4, Virtua Fighter 4 Evolution, Virtua Fighter 5, Virtua Fighter 5 R, Virtua Fighter 5 Final Showdown, Fighting Vipers, Fighting Vipers 2, Fighters Megamix, Last Bronx

Gameplay Engine

7.5 / 10

Story / Theme

5 / 10

Overall Graphics

8.5 / 10

Animation

7 / 10

Music / Sound Effects

7.5 / 10

Innovation

7 / 10

Art Direction

8 / 10

Customization

5 / 10

Options / Extras

7 / 10

Intro / Presentation

7.5 / 10

Replayability / Fun

7 / 10

"Ouch" Factor

8.5 / 10

Characters

6.5 / 10

BOTTOM LINE

7.3 / 10

Review based on Saturn version

Final Words:
If you owned a Sega Saturn, you must have had this game... Especially since it was given out completely FREE by mail if you were a registered Saturn owner in the US.

Though a good home console fighting game at the time, Virtua Fighter was nearly two years old, and looked considerably aged even though the graphics had significantly improved from the original version.

~TFG Webmaster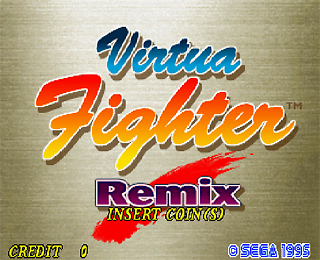 REVIEW: Virtua Fighter Remix is basically a port of the original arcade version of Virtua Fighter for the Sega Saturn. The graphics were updated slightly, which improved textures and character models (now with a higher polygon count). There were also several new modes to choose from. Other than the updated graphics, the game engine is the same as the classic arcade title.

New selection screen artwork... not bad!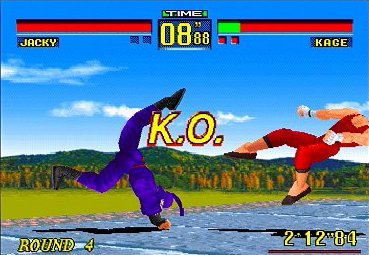 An improved appearance, but the same gameplay experience.