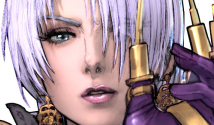 Bandai Namco Entertainment America uploaded a 13-minute SoulCalibur documentary / retrospective about the iconic 3D weapon-based fighting series. The first installment of this video documentary features several well-known Soul Calibur players, including: Kayane, Aris, Markman, LinkRKC and Bibulous, who recall their fondest Soul Calibur memories and note some of their favorite aspects of the game. The video documentary (below) is a great watch whether you're a series veteran or a brand new player. [UPDATE] PART 2 of this documentary series added. In part two, our fighting game friends talk about the SoulCalibur competitive scene, the evolution of the series, and why they're so excited for SoulCalibur VI.


Soul Calibur VI releases October 19th, 2018 on PlayStation 4, Steam, and Xbox One.

Stay right here on FightersGeneration.com, your best source for Soul Calibur 6 news and future content!