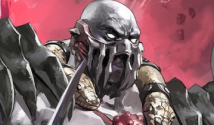 Fans of the 2D character illustrations from TEKKEN 7 and TEKKEN Tag Tournament 2 should immediately recognize the vibrant artwork of Junny (@junny113 on Twitter), who recently completed two amazing SoulCalibur VI illustrations. These "group" character illustrations are a homage to official SoulCalibur artworks from 1998-1999, featuring a "heroes" and "villains" side. The heroes side features Kilik, Sophitia, Maxi, Xianghua & Groh, while the villains side has Nightmare, Ivy, Astaroth, Inferno & Lizard Man. Check out the full-size versions of both of the new illustrations by Junny, below!


Also keep your eye on TFG's SoulCalibur VI Character Art Gallery - recently updated with illustrations from fighting game artwork legends, Takuji Kawano and Hiroaki.

Stay right here on FightersGeneration.com, your best source for Soul Calibur 6 news and future content.