Friday, September 21st, 2018

Soul Calibur VI - TGS '18 Gameplay Featuring Azwel, Astaroth, Lizard Man, Story & Creation Modes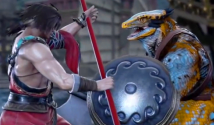 New Soul Calibur 6 gameplay footage from Tokyo Game Show '18 has arrived. French Youtuber Hayate Ein was able to get his hands on the "final" version of the game early, as his latest videos walk us through the game's main menu and Libra of Soul mode. Worth mentioning, in story mode, the player ran into Lizard Man (with his returning / updated moveset), hinting that Lizard Man could be a playable character in SC6. (As you probably know by now, you can also create your own "Lizard warrior" using any fighting style in the game.)

Also take a look at the first raw gameplay footage of Azwel and Astaroth, below!

Stay right here on FightersGeneration.com, your best source for Soul Calibur VI news and future content!

Source: Hayate EIN
Related News: (8-18-2018): SC6 Raphael Sorel Reveal Trailer, Artwork, Screens & Bio,
(9-12-2018): SC6 Cervantes Trailer, Artwork, Bio & Screenshots,
(9-12-2018): Soul Calibur VI Game Modes Introduction Trailer,
(9-5-2018): SC6 Could Be The Final Soul Calibur, Unless The Game Sells Well,
(8-25-2018): SC6 Azwel Reveal Trailer, Bio, Screenshots & Artwork,
(8-21-2018): SC6 Tira Reveal Trailer / Libra of Soul Trailer,
(8-5-2018): Astaroth & Seong Mi-Na Announced for SC6,
(7-25-2018): Soul Calibur 6 Battle Mechanics Blog with Producer Okubo
Related TFG Links: Soul Calibur 6, Astaroth, Azwel, Lizard Man

Visit SHOP TFG to check out
awesome and rare fighting
game items for sale on FightersGeneration.com!

*NEW ITEMS ADDED*
SEPT. 16th, 2018!

✔ FOLLOW FIGHTERSGEN ON:





.