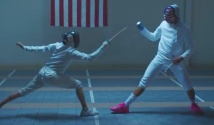 Today, Bandai Namco posted a new Soul Calibur VI spot called "The Fight is Real" featuring producer Motohiro Okubo with U.S.A. Olympic team Fencer and bronze medallist, Miles Chamley-Watson. In this unique video presentation to promote the upcoming release of Soul Calibur VI, the two discuss the art of fencing, which leads to Okubo-san talking about the inspiration behind Raphael Sorel's design and moveset in Soul Calibur VI. During the video, Okubo-san and Miles even have a duel in both Olympic-style fencing and Soul Calibur VI.

Soul Calibur VI will release on October 19th, 2018 for PlayStation 4, Xbox One & Steam.

Stay right here on FightersGeneration.com, your best source for Soul Calibur 6 news and future content!