Thursday, October 4th, 2018

Soul Calibur VI Inferno Reveal Trailer, Official Artwork, Screenshots & Character Bio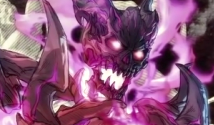 The return of Soul Calibur and SoulCalibur 2's sinister boss has been confirmed. This morning, Bandai Namco officially revealed Inferno by posting his SoulCalibur 6 reveal trailer. According to early reports, Inferno will be an unlockable playable character by completing a certain point in Soul Calibur 6's Soul Chronicle story mode. Using Soul Edge, Inferno appears to borrow some of Nightmare's attacks but shows some of his own ultra-powerful attacks in the trailer.

Character Bio: Inferno, the original antagonist that kicked-off decades of struggle for power in both Soul Blade and SOULCALIBUR returns to SOULCALIBUR VI to wreak havoc and deal death to all challengers. As the evil spirit of Soul Edge, Inferno is fearsome, possessing deep knowledge of fighting techniques which he mimics with uncanny skill, allowing him to use any weapon and fighting style with a phenomenal degree of expertise. Inferno's power defies standard means of measurement, if one were only comparing skill and weaponry, then Inferno easily transcends any of Soul Edge's previous vessels.

Soul Calibur VI releases October 19th, 2018 on PlayStation 4, Steam, and Xbox One.

Stay right here on FightersGeneration.com, your best source for Soul Calibur 6 news and future content!

Source: Bandai Namco Entertainment America
Related News: (9-28-2018): SoulCalibur VI Movelists for All Beta Characters,
(9-27-2018): "The Fight is Real" SC6 Spot with Okubo & Olympic Fencer,
(9-22-2018): SC6 Network Test on PS4/XB1, Controls Guide,
(9-21-2018): SC6 - TGS '18 Gameplay w/Azwel, Astaroth, Lizard Man, etc.,
(8-18-2018): SC6 Raphael Sorel Reveal Trailer, Artwork, Screens & Bio,
(9-12-2018): SC6 Cervantes Trailer, Artwork, Bio & Screenshots,
(9-12-2018): SoulCalibur VI Game Modes Introduction Trailer,
(9-5-2018): SC6 Could Be The Final SoulCalibur, Unless The Game Sells Well
Related TFG Links: Soul Calibur VI, Inferno

Visit SHOP TFG to check out
awesome and rare fighting
game items for sale on FightersGeneration.com!

*NEW ITEMS ADDED*
SEPT. 16th, 2018!

✔ FOLLOW FIGHTERSGEN ON:





.