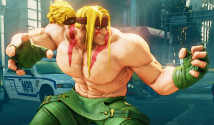 On the first day of EVO '17, Capcom dropped some Street Fighter V announcements which are sure to please old school fans. First off, classic costumes for Alex, Ibuki and Juri will finally be added to the game on July 25th ($3.99 each). Ryu's classic SF2 stage "Suzaku Castle" is also coming to SFV, along with a new Capcom Pro Tour stage called "Ring of Pride". Last but not least, Capcom shared a screenshot of a new stage based on Abigail's stage from Final Fight (1989). This is a strong indication that the next DLC character for SFV is indeed Abigail.

Scroll down to see all of the new Street Fighter V images. We'll update this article throughout the weekend.


And below are screens of the new Capcom Pro Tour 2017 stage called "Ring of Pride", along with a new Guile costume co-designed by Capcom Cup 2016 winner, Du "NuckleDu" Dang. The Guile costume will cost $5.99 (also included in the Capcom Pro Tour 2017 Premier Pass) and the Ring of Pride stage will set you back $9.99. Both of these DLCs will release on July 25th.


Last but not least, old school Capcom fans should immediately recognize the environment pictured in the teaser SFV screenshot below. This updated take on Abigail's stage from Final Fight looks to be the perfect backdrop to reintroduce the boss of Metro City's Bay Area.


[UPDATE] Abigail has been officially confirmed for SFV. Check out Abigail's reveal trailer, screenshots, V-Trigger details, story artwork, movelist and more!

Stay tuned on FightersGeneration.com for the latest announcements from EVO 2017.