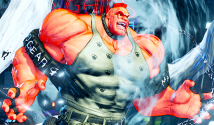 Abigail is all prepared to wreak havoc in Street Fighter V on July 25th. If you're a SFV player on any level, you should be interested to see what this mountain of a man is capable of. Below, read up on Abigail's V-Trigger details, check out Abigail's full movelist, watch his official introduction trailer from Capcom, and check out a bunch of high-res screenshots, along with Abigail's official character artwork, and story artwork.

Abigail thrusts his sizeable belly forwards (either high or low) countering the opponent's attack and setting himself up for a combo opportunity.
After popping his two-bar V-Trigger, Abigail can charge up his four different heavy punches for one hit of armour and extended juggles. A full charge will break the opponent's guard.
Abigail slams his opponent with a downward open-palm strike that puts them into a daze. He then hoists them into the air, pummels them like a makeshift speedbag before launching a savage hook that shatters the screen.

Check out Abigail's MOVELIST / CHARACTER STATS from Capcom.Game.com.

Below is Abigail's original reveal trailer and some images of his alternate costumes. Also don't forget to check out Abigail's TFG profile here on FightersGeneration.com (complete with classic Final Fight artwork).


July 25th will add a ton of new content to Street Fighter V. As previously reported, Nostalgic Costumes for Alex, Ibuki and Juri, Ryu's classic SF2 stage (Suzaku Castle), and Capcom Pro Tour 2017 content will also become available on July 25th.