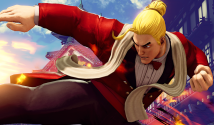 Playstation.Blog has announced Capcom Pro Tour 2017 DLC content, which is now available for purchase. So far, the content includes new costumes for Ryu and Ken, with another "Champion's Choice" costume and new stage coming at a later date. Players who purchase this content will directly support the 2017 Capcom Pro Tour. Last year, NuckleDu took home $230,000 for his win at Capcom Cup 2016 in part thanks to fans supporting CPT 2016 DLC content. Below, check out new costumes for Ryu and Ken.

TFG Exclusive Fun Fact: These "formal wear" costumes are based on a classic Street Fighter poster artwork (pictured below the screenshots).


Capcom will be offering the content separately for $5.99 and in a bundle. The CPT 2017 Premier Pass (priced at $24.99) will include 2 titles, 1 CPT-themed color for all 28 characters (PS4-exclusive) and monthly in-game targets that reward Fight Money (beginning in June). Below is a shot of two of the CPT-themed colors.


The upcoming new Capcom Pro Tour 2017 stage will cost $9.99 and more details about the stage will be revealed at a later date. For additional details about the CPT 2017 content, visit Playstation.Blog.

Stay tuned on FightersGeneration.com for continued coverage of Street Fighter V and Capcom Pro Tour 2017.