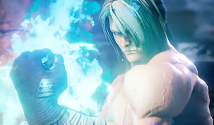 Arika (Street Fighter EX series developer) used this April Fools day to debut a gameplay video of a new fighting game engine they're working on, featuring playable SFEX characters, Kairi, Garuda and Hokuto. Several years back, Arika shared developmental footage of a SFEX-inspired reboot (on Nintendo 3DS), but it turned out to be experimental only. However, it seems Arika never actually stopped development of their spiritual successor to Street Fighter EX, and clearly hasn't forgotten about the characters they own the rights to.

Details are very very scarce at the moment (and let's not forget it's April Fools Day)... but let's take a look at the facts so far. The "April Fools" video obviously features real gameplay of a visually polished game in development - experimental or not. Arika's official Youtube channel uploaded the original video. Here it is below:

Arika followed this up by announcing their company's 20th anniversary, and then streaming their "fighting game project" for a full 2 hours, further confirming that this is indeed a living, breathing game, of sorts. Furthermore, GODSGARDEN pro-player Ryota "Kazunoko" Inoue was present on stream to try out the game. You can watch the full 2-hour stream archive, below.


Notable gameplay elements in Arika's new project, include: Cancelable super moves, a sidestep mechanic, chain combos, and walled stages. The working title of the game is Fighting EX Layer, and the project is still heavily in development. [UPDATE] Check out some awesome new concept artwork of Kairi, Garuda & Hokuto, below.
✔
Webmaster Comment: You know I gotta weigh in on this one.... So, the game obviously had to be partially real to make a gameplay video in the first place. (This is why I didn't get / fall for the joke.) Also Arika wouldn't purposely play with our emotions for no reason, because fans have been asking for an Arika fighting game successor for a long time now. I only wondered when Arika would decide to reveal the game that they're actually working on. But of course, it appears they "revealed" it in the very same day.



But how real is it? Only time will tell. Will Arika finally be bold enough to reintroduce their exclusive characters in a brand new title of their own? Or will they end up working with Capcom once again to produce something with Street Fighter characters and Arika characters? Either scenario seems like a possibility at this point.

In case you were wondering, below are videos of the "developmental footage" mentioned in the beginning of the article. This was an experimental project for the Nintendo 3DS (but was seemingly scrapped). Interestingly, the 3DS project features some of the same mechanics found in the more-polished version that Arika is now working on.

(Videos courtesy of my friend ARIKAFGC on Youtube.)

One thing's for sure... Arika has been successfully secretive about their project (which is supposed to be the actual April Fools joke, apparently). I still don't get the joke (because I refuse to let Arika play with my emotions), but in any case, I'm intrigued. Game title possibilities? ...Arika VS Capcom? Arika Fighting All-Stars? Arika X Capcom EX Plus Alpha?

Either way, if it has Skullomania, Allen, D. Dark, Darun, Cracker Jack, Blaire, Shadowgeist, and maybe a portion of the Fighting Layer gang... I'll certainly buy it DAY ONE.



Of course, let's not forget it is actually April Fools. But this "game" is undeniably real in some form - if it is actually made by Arika. In any case, don't get your hopes up too much just yet. ~F.Yagami / TFG Webmaster


Of course, FightersGeneration.com will keep you up to date on any new information regarding this work-in-progress title by Arika.