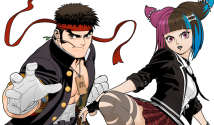 Now that April Fools is over, we can give fighting game news the benefit of the doubt once again. Capcom did announce on April 1st that M. Bison's classic Street Fighter 2 Thailand stage will be coming to SFV on April 25th as DLC, along with new costumes for Ryu, Chun-Li, and Juri Han based on Street Fighter Academy Quiz (an online mini-game released by Capcom on April Fools). Below, check out the official artwork (by Shinkiro) of Ryu, Chun-Li and Juri in their Street Fighter Academy outfits.

(Now I'm suddenly itching for a Rival Schools crossover, again.) [UPDATE #1] Higher quality character artworks and SF2 Thailand stage preview added.

Below is a new preview image of M. Bison's Street Fighter 2 Thailand stage remade in Street Fighter V, along with 2 previously released images.


[UPDATE #2] The new stage and the SF Academy DLC costumes will be added to SFV on April 25th. Each costume will cost $3.99 each.

Stay tuned on FightersGeneration.com for continued coverage of Street Fighter V Season 2. Capcom will be announcing new characters for Season 2 later this year.