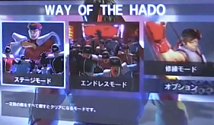 The "first-person mode" that was teased in the original Ultra Street Fighter 2 trailer has now been confirmed by Capcom. In Ultra Street Fighter 2's "The Way of Hado" Mode, players equip the Nintendo Switch Joycons and use motion controls to have Ryu throw Hadoukens, Shoryukens and Hurricane Kicks at incoming Shadaloo soldiers. While it might look mildly entertaining as an extra mode, it seems to be mostly a "novelty" aimed to attract casual players. (No actual combos or tech of any kind seem to be involved. Hmph.)



The Way of Hado gameplay begins at around 2:57:10 in the video below.


[UPDATE #1] The Way of Hado features 3 difficulty paths: Beginner, Standard, and Extra. It appears players will "aim" Hadokens at enemies onscreen with the Joycons, while uppercuts and hurricane kicks will hit enemies up-close, naturally. There's also a super meter that, once full, will let you unleash a Shinku Hadoken hitting multiple enemies at once. Seems easy enough. (EVO '16 side tournaments anyone?

Jk.) There will also be an experience / level up system for Ryu in the mode.

[UPDATE #2] Below are some new screenshots of The Way of Hado Mode.


In related news, Color Edit & Gallery modes were also confirmed for Ultra Street Fighter 2. Stay tuned on FightersGeneration.com for continued coverage of Ultra SF2 on Nintendo Switch.