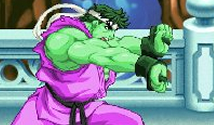 Early this morning, Capcom confirmed 2 new modes for Ultra Street Fighter 2 on Nintendo Switch. Potentially the most exciting, Color Edit Mode will make its way to the game, allowing players to customize SF2's iconic fighters with the system's touchscreen. Players can save up to 10 custom colors per character and use them in Arcade, Versus, and Online battles. Also announced is a Gallery mode featuring "over 1400" illustrations from the artbook SF20: The Art of Street Fighter (in 250 dpi resolution).

Below, check out the first screenshots of Ultra SF2's Color Edit and Gallery modes.


Capcom also dropped these new screenshots of Ultra Street Fighter 2's first-person "The Way of Hado" mode. You can see the first gameplay footage of this mode in TFG's previous article (in case you missed it from earlier this week). [UPDATE] Also check out a screenshot of the game's main menu, directly below.


To recap: The Way of Hado features 3 difficulty paths: Beginner, Standard, and Extra. It appears players will "aim" Hadokens at enemies onscreen with the Joycons, while uppercuts and hurricane kicks will hit enemies up-close, naturally. There's also a super meter that, once full, will let you unleash a Shinku Hadoken hitting multiple enemies at once. There will also be an experience / level up system for Ryu in the mode.

Stay tuned on FightersGeneration.com for continued coverage of Ultra Street Fighter 2.