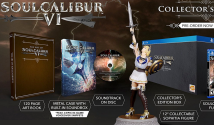 Bandai Namco released a video showing the contents of the Soul Calibur 6 Collector's Edition for PlayStation 4 and Xbox One. Once again, the Collector's Edition comes with a 12" inch Sophitia Alexandra statue, a 120 page art book, CD compilation soundtrack, a metal case cover with built in soundbox, and the standard version of the game. The Collector's Edition retails for $149.99 and is currently available for pre-order in the Bandai Namco Store, as well as on Amazon, Best Buy, and Gamestop.


Soul Calibur VI releases October 19th, 2018 on PlayStation 4, Steam, and Xbox One.

Stay right here on FightersGeneration.com, your best source for Soul Calibur 6 news and future content!