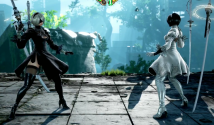 The first gameplay footage of 2B in SoulCalibur VI was shown during a special Dengeki livestream featuring Bandai Namco's Motohiro Okubo, Square Enix's Yosuke Saito, composer Keiichi Okabe, and Yoko Taro. Once things kicked off, the team demonstrated a small portion of 2B's moveset, unveiling some very interesting animations and unique abilities. For one, 2B's stance posture changes depending on her health. 2B's pod support unit can also fire lasers at her opponents or even "fish" for them (just like in the game).

Without spoiling too much, 2B has many of her familiar maneuvers and moves from NieR: Automata... but fans will also get to see a brand new side of 2B. Some of her new moves just have to be seen to be believed. Enjoy the full stream archive below. We also get a nice look at the gorgeous NieR: Automata stage!


In addition to 2B gameplay and the new stage, the footage also highlights some of the NieR themed customization items and alternate costumes, and gives fans a chance to listen to the official BGM of the stage (composed by Keiichi Okabe).

In case you missed 2B's reveal trailer, screenshots, and official artwork... check it all out in TFG's previous article. Stay tuned on FightersGeneration.com for full coverage and new content for SoulCalibur VI.