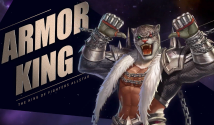 Today, Netmarble uploaded official KOF: All Star X TEKKEN 7 gameplay trailers for Jin Kazama, Armor King, Ling Xiaoyu, Paul Phoenix, Kazuya Mishima, and Heihachi Mishima... all who will be playable in KOF: All Star beginning November 19th (in Japan). Each of the TEKKEN fighters has access to a selection of their trademark attacks in the mobile beat-up-up RPG, and can even perform their unique Rage Art (AKA Special Skill) when a Battle Card is equipped. Alternate versions of Jin Kazama (Classic Jin) and Ling Xiaoyu (Blood Vengeance / Schoolgirl) also received their own gameplay trailers.


[UPDATE] And below is the cinematic trailer for the KOF x TEKKEN crossover event.


Stay tuned on Fighters Generation for more KOF: All Star x TEKKEN news.