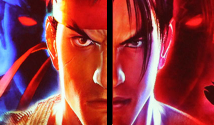 TEKKEN series producer Katsuhiro Harada recently sat down with VideoGamesChronicle to talk about the mysterious crossover project that's still currently "on hold"... TEKKEN X Street Fighter. Harada stated, "Traditionally, the life cycle of a fighting game is very short - maybe one or two years and then you make a sequel. But TEKKEN 7 is very successful as a service game with its DLC. That makes it much harder to justify releasing another game, while TEKKEN 7 is still doing so well". Fun Fact: TEKKEN 7 is the only mainstay fighting game at EVO that has *increasing* tournament participants with each consecutive year (over the past 4 years).

Believe it or not... it's been almost 9 years since the original announcement of TEKKEN X Street Fighter at San Diego's Comic-Con 2010. In Tokyo Japan, Harada told VGC that due to TEKKEN 7's ongoing success, and after the launch of the game's ninth DLC pack (with potential plans to add more content later in 2019), the current situation and climate of the fighting game industry has left Harada "wondering" if Bandai Namco should finish up development on TEKKEN X Street Fighter.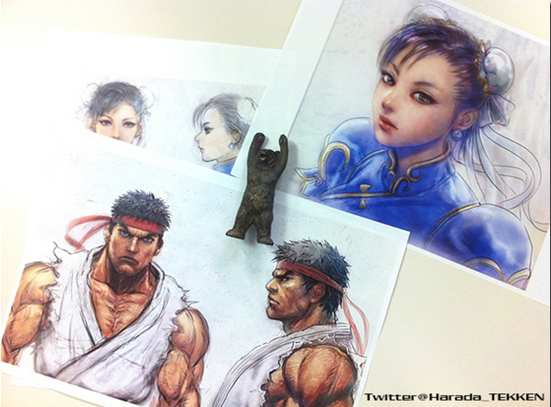 Early TEKKEN X Street Fighter concept artwork of Chun-Li and Ryu.

Due to continued support for TEKKEN 7 within the competitive community, strong active player stats on Steam & PS4 (still leading the pack for 2 years since the console launch), and solid DLC reception, Harada's "logical and business sense" has him questioning if bringing in a new 3D fighting game to "compete with TEKKEN 7" would be a wise decision for Bandai Namco at this time.

"When we were ready to progress further with the project, Capcom released Street Fighter 5 and then we released Tekken 7," said Harada. "Those titles are some of the best fighting games ever and they became very successful."

"Traditionally, the life cycle of a fighting game is very short – maybe one or two years and then you make a sequel. But Tekken 7 is very successful as a service game with its DLC. That makes it much harder to justify releasing another game, while Tekken 7 is still doing so well."

However... Harada made it clear that he is still "emotionally up for it" in regards to developing and completing the TEKKEN X Street Fighter project - which was put on hold at somewhere around 30% complete of its development (the last we heard).

"Yes, I am emotionally up for it," he said. "I still want to release the game. However, as much as I want to proceed with the project, things have changed a lot since 2012. So I need to get approval and I need to speak to Capcom again as well — they may say 'no' now."



"I was excited to see how well Bandai Namco could convert 2D characters like Akuma from Street Fighter, and Geese from The King of Fighters into 3D models and make them look really sexy, visually," he said, referencing guest characters featured in T7.



"I was excited about that and I have passion for it, but my logical and business thinking has me wondering if I really should do it."

In 2010-2011, the original announced plan was for Capcom to first release their "2D version" of the crossover (Street Fighter X TEKKEN) in 2012... which they did. The title, led by Capcom's Yoshinori Ono, got mixed reviews and quite a bit of negative press - partly due to SFxT's on-disc DLC debacle. Even though Bandai Namco never actually announced a release date for TxSF, Namco's 3D version of the crossover was supposed to follow in SFxT's footsteps. It's speculated by some that Namco delayed their project in part due to the negative backlash caused by SFxT.

In regards to early development of TEKKEN X Street Fighter, here's what Harada told VGC:

"We started the project back in 2012 and the real interesting question then was, what is going to happen when the Tekken team designs characters for Street Fighter? We started creating 3D models and I really liked them – they looked super cool – and the project progressed to about 30% completion."


"So then I started to wonder, do I really want to attempt to compete with these huge titles? It could end up splitting the community. That was a serious consideration from the marketing perspective. So I decided to hold off releasing the game for one or two years. Following that, Tekken 7 is now doing very well as a service game.



You can read more in VGC's full article.

TFG Webmaster Comment: I think I speak for the majority of competitive TEKKEN players (and old school fighting game fans alike) when I say... PLEASE continue developing TEKKEN X Street Fighter Harada-san!!!

The "2D style" characters, Geese Howard and Akuma in TEKKEN 7, are some of the most fun fighting game characters I've ever used (and fought against). A passion project and epic 3D fighting crossover of this caliber needs to be done right and definitely can't be rushed.

Until then, I like many others will continue supporting and enjoying TEKKEN 7 (because it is a great game).

Back in March of this year, the TEKKEN World Tour 2019 was announced with major TEKKEN 7 tournaments being held in over 25 locations worldwide. You can head over to TEKKENWorldTour.com for more details on the new tournament series.

Stay right here on FightersGeneration.com for more TEKKEN news.