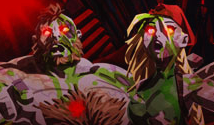 Capcom's CFN Portal posted some additional Street Fighter V concept artworks over the past few days, showing unused "scrapped" character designs, classic characters (such as Guy, Maki & Yun), plus some creepy "zombified" character costumes. Let's start with the zombie costumes... because zombies are still "in"... right?


So far, we've got zombie versions of original Street Fighter 2 icons: M. Bison, Cammy, Chun-Li, Dhalsim, and Zangief. On CFN, Capcom developers mentioned these SFV costumes were "scrapped" for the time being, but still have potential to make it into the game at some point.


Now say hello to some old friends... Final Fight 2's Carlos Miyamoto & Maki, along with Guy (in his SFV concept costume & training costume), and SF3's Yun. [UPDATE] Oro, Q and Yang added! Capcom didn't mention whether or not we'll see any of these veterans return in SFV, but the fact that this concept art exists gives us some hope.


For the main event, check out these scrapped Street Fighter V character designs along with their full descriptions from the Capcom devs. Yours truly will also weigh in with my own comment about the design!

"Miss American Football"



OFFICIAL DESCRIPTION:
A powerful woman representing America! Her powerful tackle and sexy demeanor represents her. The concept felt a bit too disconnected from fighting games, so she was unfortunately discarded.

TFG Webmaster Comment:
She'd fit amazingly well into Rival Schools. Save this one for Rival Schools 3, Capcom! =)

"Miss Ice Hockey"



OFFICIAL DESCRIPTION:
A Canadian character. More defensive than Miss American Football. She's red-haired, with freckles and a bit of a tomboy. Even though she had a unique female frame, the character herself felt pretty weak, so she was discarded.

TFG Webmaster Comment:
Makes sense for a Canadian Street Fighter character. I like football girl a bit more.

"Koukakuken Fighter"



OFFICIAL DESCRIPTION:
What is a Koukakuken? It's when someone trains a part of their body to such an extreme, that it becomes as hard as the shell of a crab or a lobster, and uses that as their primary weapon! Hmm... Too fantasy-ish, discarded!

TFG Webmaster Comment:
Wow.... This one's out there. Getting Wang Tang vibes? Not bad, he could've worked if his moveset was interesting enough.

"South American Assassin"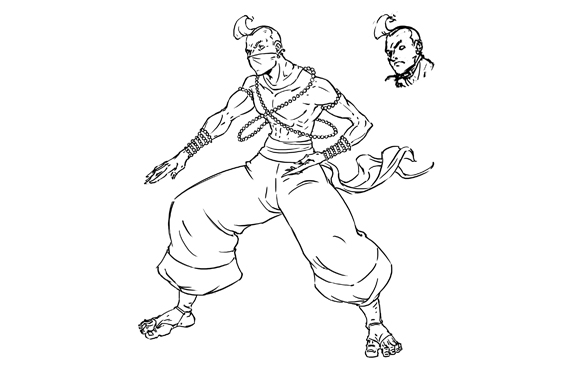 OFFICIAL DESCRIPTION:
This characters was conceptualized when we were trying to figure out Necalli. It's a pretty smart look, and he looks cool, but it didn't quite fit what we were looking for. "Wild, aggressive, mystical" were our keywords when developing Necalli, so unfortunately, discarded!

TFG Webmaster Comment:
Seems like he'd be a cool rival for Necalli... or something. Could've worked with an improved costume. Looks too much like a male Ibuki at this point.

"Yeti"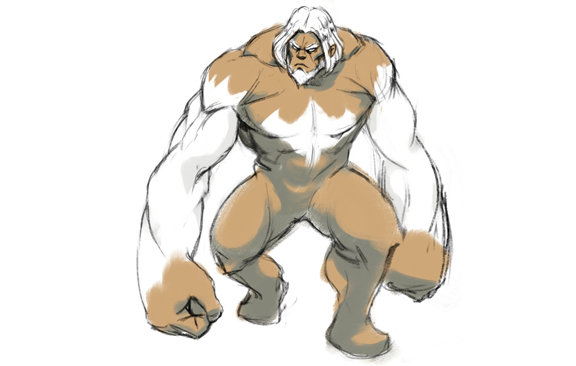 OFFICIAL DESCRIPTION:
This was also meant as a Canadian character. The idea of having him use his HP gauge in his attacks was considered. Hmm... Too Darkstalkers, discarded! In our memos, there's a note saying "A beautiful Zangief" in regards to him.

TFG Webmaster Comment:
"Too Darkstalkers" indeed. Cool proportions... but do Yeti's really comb their hair so nicely? lol.

"Asuka"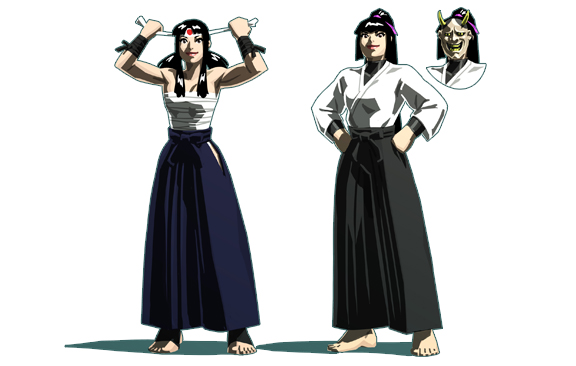 OFFICIAL DESCRIPTION:
An Aikido practicioner, fighting in an old manner. Since she's a woman, it felt appropriate to apply a fighting style where you use your opponent's power against them. However, we had too many Japanese characters already, so she was discarded. I'd like to bring her out sometime, though...

TFG Webmaster Comment:
Is that really why you scrapped her, Capcom devs? Don't pretend like you've never played TEKKEN. There isn't a character named Asuka Kazama who uses Aikido-inspired techniques, or anything... Get off your asses and go play some TEKKEN.

"Elizabeth"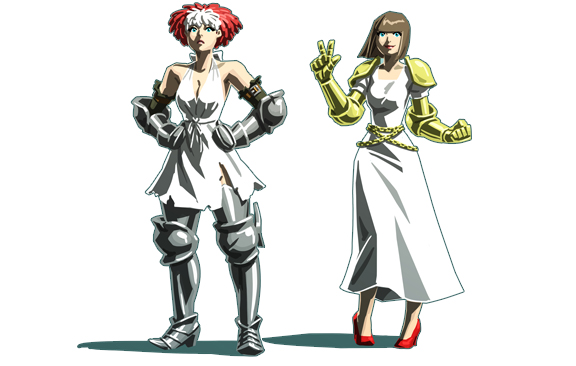 OFFICIAL DESCRIPTION:
A French Savate user. She covers her weak spots with armor. She was conceptualized as a rich antique dealer. There are too many rich people in Street Fighter! Discarded. I like both her concept and her design, though.

TFG Webmaster Comment:
Too Soul Calibur... doesn't seem to fit with Street Fighter at all. Glad this one was scrapped.

That's all for this week... I must say, what Capcom is doing with their CFN Portal is pretty cool. Being able to see these "unused" concepts for a such recently released game is intriguing and fun, because you never know who or what might actually make it into the game, since it's still being made.



Remember, you can check out all previously released Street Fighter V artwork over at TFG's exclusive SFV concept art gallery. On that, note if you haven't seen the concepts for Guile's boss, the Shadaloo cyborg, and R. Mika's wrestling comrades, check them out below.

(From Earlier): Here's Guile's boss (who is seen in the background of Guile's SFV stage). His name is Byron Taylor and he's a General in the Air Force. He hates Shadaloo, is an expert on Commando Sambo, puts his work before anything else, and is originally from Texas.


Below, meet some female wrestlers from the Iwashi Ga Hama Japan Women's pro-wrestling division. You can check out each character's bio at CFN Portal. Even though it's written in Japanese, you can find out some extra details on these wrestlers using Google translate.


Last but not least, here's a Shadaloo cyborg who has the ability to scan other fighters and copy their moves (similar to the cyborgs from SF2: The Animated Movie).


Will any of these characters make it to the SFV roster down the road? That is currently unknown, but you never know. Stay tuned.