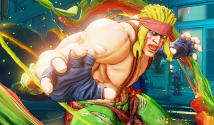 With only 1 day of March left to spare... Capcom has finally released the official trailer for Alex in Street Fighter V. The even better news is that Alex and the long-awaited Shop are now live in SFV. New characters, costumes, colors, titles, and profile designs can currently be purchased from the in-game Shop. Colors cost between 2000-10000 Fight Money, Story costumes cost 40,000 Fight Money, new characters are 100,000 Fight Money, and titles & profile designs cost 5000 each.


Players who have the Season pass will gain access to new characters as soon as they are released. If not, 100,000 Fight Money will be required to unlock them permanently. SFV's Zenny (real money) feature will be added at a later date for users to purchase premium costumes and other content.

As you can see from the trailer, Alex has a parry ability within his clothesline V-Trigger move. (Being the main protagonist of Street Fighter III, this only makes sense). A Youtuber by the name of Shinichi Z already recreated EVO moment #37 with Alex, parrying all of Chun-Li's Critical Art.