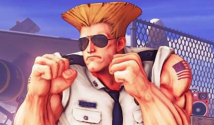 Capcom has unveiled the first look at Street Fighter V's next free DLC fighter, Guile. The classic Airbase stage from SF2 will also be returning in SFV as the game's first DLC stage. Check out the official trailer, along with screenshots, artwork, and videos featuring Guile on his iconic stage. Also read up on Guile's revamped moveset and new details on SFV's April update, all while you listen to Guile's new SFV theme!


(From PS.Blog) In Street Fighter V, Guile retains his ability to dominate both the ground and air with his solid normal attacks and special moves, such as Sonic Boom and Somersault Kick. He also now has the ability to enter a crouch walk state called Faultless Move which allows him to keep his charge while moving forward, giving him even more options in his kit to keep his opponents in line. Guile is a great choice for those of you who are looking for a charge character who can easily control the pace of the match.


V-Skill: Sonic Blade
Guile spins up sonic energy to create a Sonic Blade which acts as a stationary projectile that can also juice up his Sonic Booms. Sonic Blade can really help Guile pressure opponents on their wake-up or help him win projectile battles as it increases Sonic Boom durability!
V-Trigger: Solid Puncher
Guile powers up and tosses out continuous Sonic Booms! Each button throws a Sonic Boom at a different speed, so mixing up between buttons can create interesting Sonic Boom sequences. Depending on the sequence used, this can act as a great combo extender, be used to overwhelm opponents, or easily push opponents to the corner.


Critical Art: Sonic Hurricane
Guile's most devastating attack, the Sonic Hurricane! Guile powers up and hits his opponent with a massive, multi-hit Sonic Boom. This Critical Art receives a damage and range boost while his V-Trigger is active.



Air Force Base Stage
SFV's first DLC stage is none other than a series classic: Guile's Air Force Base. The F-16 receives a new coat of paint and you'll probably recognize some familiar faces cheering you on in the background. This stage will be available in the Shop for 70,000 FM. Season Pass holders will receive this stage for free as a thank you for supporting Street Fighter V.
Rage Quit System
Next, Capcom will finally be implementing a system to punish players who frequently disconnect during matches (AKA rage quitters).
The way this will work is the system will identify players who have high disconnect rates during matches and will lock them out of matchmaking for a period of time. Players who have been identified as abusing the system will receive an in-game message notifying them they have been locked out of matchmaking. More additions and enhancements to this system will be implemented in the future.
Matchmaking Improvements
Capcom will also be making a number of improvements to SFV's matchmaking. Many users should have an easier time creating and connecting to Battle Lounges and we are also loosening the restrictions on finding an opponent. We know users in Europe and other parts of the world have experienced some issues finding opponents and this should help increase the amount of battles coming their way.
[UPDATE 4-27-2016] Capcom announced that Guile will make his debut on April 28th (7pm PST/10pm EST) in North America. Guile will Flash Kick his way to Europe a day later on April 29th (2am GMT). While you wait, here's over 1 hour of SFV Guile gameplay footage.

Lastly, here's a preview of Guile's Street Fighter V theme.