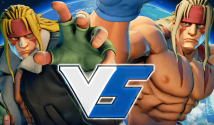 (That moment when a Street Fighter fan does a better job than Capcom of bringing Alex into SFV.) We don't normally post about the latest fighting game PC mods here on TFG, but this one is well-warranted. A modder named Pior just completed his SFV "classic Alex" costume mod, featuring Alex's original SF3 attire, plus an alternate version of Alex wearing his Capcom Fighting All-Stars jacket.

Pior didn't just "slap on a pair of overalls" onto the SFV Alex model... he completely changed Alex's facial structure, muscle anatomy, and fixed that horrid French fry hair. Behold, this is how Alex should've looked in Street Fighter V. Hands down. Nuff. Said.


"Gameplay videos or it's not real," you say?

Here they are below. The guy who created this badass Alex mod also created an impressively accurate Q mod for M. Bison.


You can find the download link for Pior's Classic Alex mod on his Deviantart page, along with additional images.