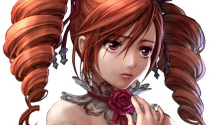 Last month, Amy Sorel was revealed as the first classic character coming to Soul Calibur 6 by the way of DLC. Bandai Namco officially confirmed Amy's release date as March 26th, 2019, and shared some new screenshots showing Amy's classic Soul Calibur 4 costume - which will be available in Soul Calibur 6. The upcoming ver 1.30 update for Soul Calibur 4 will also add Amy's customization parts to Creation Mode. Below is Amy's previous Soul Calibur 4 artwork, followed by Soul Calibur 6 screenshots of the classic costume as it appears the new game.


Below is a recap of Amy's Soul Calibur 6 visual content, including her official reveal trailer, character artwork, and HD screenshots. If you purchased the Season Pass, Amy will be downloaded to your system of choice on release day.


Stay tuned on FightersGeneration.com for continued coverage of SoulCalibur VI.