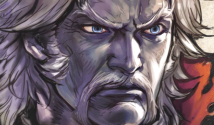 TFG's exclusive Art Gallery for Soul Calibur VI was recently updated with (most) character portraits that appear within the game's Soul Chronicle story mode. As most of you know by now, these amazing illustrations were drawn by the legendary Hiroaki Hashimoto, whose vibrant art style came into the fighting game scene beginning with The King of Fighters '99. Hiroaki is also known for his amazing illustrations for KOF XI, KOF XII, KOF XIV, Neo Geo Battle Coliseum, and Garou: Mark of the Wolves.
Here are all Soul Chronicle character portraits in TFG's gallery, so far...


As you might've noticed, several characters have various facial expressions / alternate versions of their portraits (more of which will be added in the future).

Furthermore, a new Concept Artwork gallery was also recently added to TFG's Soul Calibur VI profile. Below is all of the official concept artwork for Soul Calibur VI so far, and of course, both art galleries will be kept updated throughout 2019!


On one final note... TFG's Full Review of Soul Calibur VI has arrived!

Enjoy the read. Stay right here on FightersGeneration.com for continued coverage, future character reveals, and upcoming new content for SoulCalibur VI.