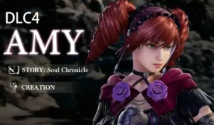 On stage at EVO Japan 2019, Soul Calibur VI producer Motohiro Okubo announced the next DLC character coming to the game, Amy Sorel. Amy will have her own story in Soul Chronicle mode and her clothing items will be made available in Customize mode. Scroll down to check out Amy's official gameplay reveal trailer, first HD screenshots, and a preview of the upcoming Customization Mode update. *Additional screens and information will be posted here soon.

[UPDATE] New HD screenshots + Amy's official character artwork by Takuji Kawano were added to the article.


Additionally, Bandai Namco confirmed the release date for the next Creation Parts update (DLC3) - February 19th, 2019. This update will include 67 new pieces of customization equipment, along with Soul Blade and Soul Calibur background music for use on stages.


Stay tuned on FightersGeneration.com for continued coverage of SoulCalibur VI.