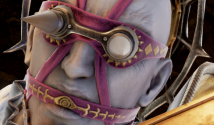 In SoulCalibur VI, players recently discovered a bug where Voldo and Tira were able to access "unlimited" Soul Meter mechanics. Bandai Namco's response has been pretty quick, as they just announced patch 1.02 to remedy the issue. Additionally, Geralt & Tira's unblockable Ukemi traps and PC version's Player Ranking system will also be patched. Version 1.02 will release November 14th on PlayStation 4, Nov. 16th on PC/Steam, and between Nov. 16th-19th on XB1.

The patch notes are currently posted on the official SoulCalibur VI website in Japanese. Below are the translated patch notes for Version 1.02. Thanks as always to ATP for quickly translating the notes.

Soul Calibur VI - Version 1.02 Patch Notes

UPDATE DISTRIBUTION DATES:
PlayStation 4: November 14th
Xbox One: November 16th-19th (expected update date timing)
PC Steam: November 16th

UPDATE CONTENTS:
For PS4, XB1 & PC
Voldo and Tira bugs where in certain circumstances, they can use Soul Meter mechanics (Soul Charge & Critical Edge) without the necessary amount of meter have been fixed.
Geralt & Tira's unblockable attacks having 'more reach than intended' when used in certain situations have been fixed.
For PC
Player Ranking Info displaying incorrect player records have been fixed.
*The dev team will continue to fix unintended effects and bugs in the game when they have been identified. We are very sorry for your inconvenience, but thank you for your understanding in the future.

Stay tuned on FightersGeneration.com for full coverage and new content for SoulCalibur VI.