Arcana Heart 2: Suggoi!

Last Updated:
1/7/2011
Developer(s):
Examu
Publisher(s):
AMI Co. / LTD (Arcade), AQ Interactive (PS2)
Designer(s):
Sakuraitooru
Platform(s):
Arcade, Playstation 2
Release Date(s):
October 30th, 2009 ( Arcade)
April 9th, 2009 ( PS2)
Characters:
Heart, Saki, Akane, Kamui, Konoha, Maori, Mei-Fang, Lilica, Lieselotte, Yoriko, Kira, Fiona, Petra, Catherine, Dorothy, Zenia, Elsa, Clarice, Nazuna, Parace, Mildred, Angelia

Featured Video:

Related Games:
Arcana Heart, Arcana Heart 2, Arcana Heart 3, SNK Gals Fighters, Blazblue, Skullgirls, AquaPazza

Gameplay Engine

8 / 10

Story / Theme

6.5 / 10

Overall Graphics

8 / 10

Animation

8 / 10

Music / Sound Effects

7 / 10

Innovation

7.5 / 10

Art Direction

7.5 / 10

Customization

7.5 / 10

Options / Extras

7 / 10

Intro / Presentation

7 / 10

Replayability / Fun

6.5 / 10

"Ouch" Factor

7 / 10

Characters

7 / 10

BOTTOM LINE

7.5 / 10

Review based on Arcade version

Final Words:
No doubt Arcana Heart 2: Suggoi is a substantial improvement over the first two games. In fact, I like most of the new designs considerably more than many of the "original" cast... both in terms of design and how they fight. The updates to the returning characters are also noticeable, and Examu did a good job overall on keeping them fresh.

Suggoi is a flashy 2D fighter visually and it certainly isn't short on females (which doesn't hurt). And by the way, if you like using male fighters, you're still shit out of luck! Even with the lack of males, there are some awesomely entertaining match-ups and some guaranteed "cool moments" in the gameplay... even button mashers can potentially look like they know what they're doing! Heh.

Though I haven't nearly mastered the combo system, the overall gameplay engine is intuitive and has solid potential... though I still don't ever see myself being "serious" about this game. I'd consider it a "casual" 2D fighting game, and it's worth a look at the least if you're a 2D fighting game fan.

~TFG Webmaster
REVIEW: Suggoi! Arcana Heart 2 adds three new fighters: Nazuna Inuwaka, Akane Inuwaka, & Parace L'Sia... each bringing an innovative fighting style to the series along with unique Arcana abilities. The three new Arcana elements introduced are Cayatshime (Flower), Fenecs (Sound) and Parace L'sia (Life).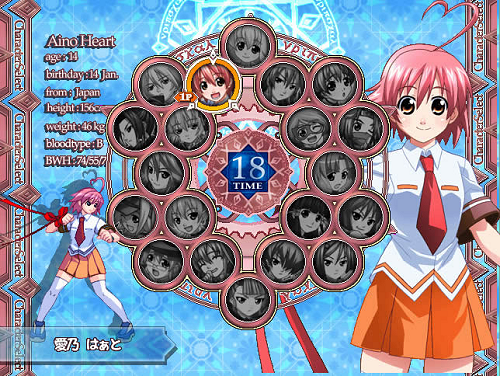 Geez... she's still 14? *sigh*
Three new features have also been added to the fighting engine including the "Arcana Blast" which uses up 1 power unit and gives the fighter a few seconds of invincibility and "Critical Heart" which is a powerful Super Attack which docks three units from the Super Gauge. The Playstation 2 upgrade of Arcana Heart 2 also includes a bonus Gallery which contains illustrations and artwork featuring the cast of characters.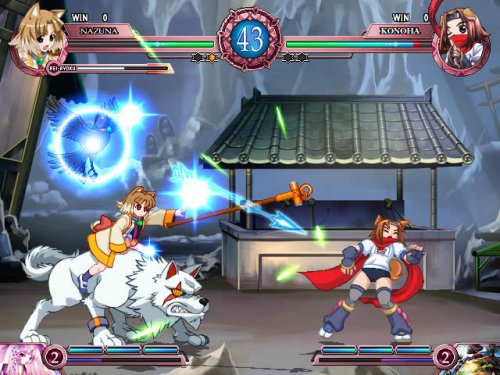 Nazuna learned a few tricks from Nakoruru.
The new characters of Arcana Heart 2: Suggoi round out the roster very nicely, and in my opinion are more impressive and interesting character designs than many of the originals. The graphics are still sharp and impress for a 2D fighting game on all levels. Character animation still isn't the smoothest we've seen from 2D, but the "anime-esk" style of animation works in this game.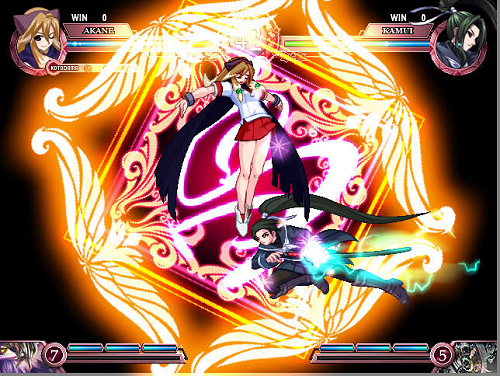 Sometimes it's hard to even tell what's going on.