AquaPazza: Aquaplus Dream Match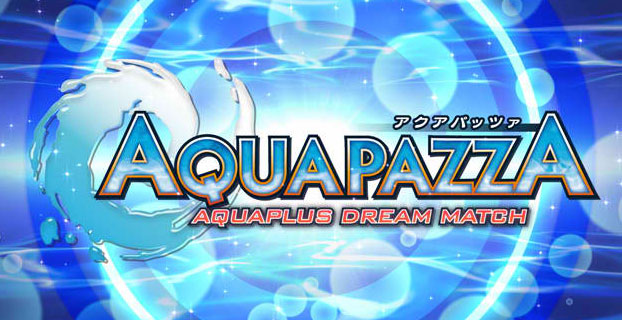 ABOUT: Aqua Plus and Examu have teamed up to create AquaPazza, a 2D crossover fighting game featuring high-res sprites and fast-paced, assist-based gameplay. The game features characters from Tears to Tiara, To Heart and Utawareru Mono and Utawareru Mono. In Aqua Plus's dating sims, these ladies are competing for your affection, but in the fighting game AquaPazza, they exchange punches, kicks, and huge special attacks to see who is the ultimate warrior.

Aquapazza was released in Japanese arcades in June 2011, with a PS3 version arriving in 2012. It's been confirmed that Atlus is bringing the game to North America November 2013 as a PSN & PS3 disc-based title, priced at $29.99. The console version contains everything from the Arcade version in addition to some new features, including: Additional characters, Story Mode, Network Mode, and Gallery Mode. In addition, the returning Training Mode packs some new features to help new players get acquainted.



In Aquapazza, there are 10 playable characters and 9 support/assist characters in the default version. Version 1.5 adds two new characters, Sasara Kusugawa from To Heart 2: Dungeon Travelers (playable character) and Yu Inagawa from Comic Party (support character).



Page Updated:
September 12th, 2013
Developer(s):
Examu, Aqua Plus
Publisher(s):
Examu
Platform(s):
Arcade, Playstation 3
Release Date(s):
June 2011 ( Arcade)
December 1st, 2011 (1.5 update Arcade)
August 30th, 2012 ( PS3)
November 19th, 2013 ( PS3)
Characters:
Touka, Tamaki Kousana, Manaka Komaki, Arwan, Multi, Karulau, Hakuwlo, Riannon, Konomi Yuzuhara, Morgan, Sasara Kusugawa
Support Characters:
Octavia, Rina Ogata, Yuma Tonami, Rathty, Camyu, Mizuki Takase, Satsuki Yuasa, Ulthury, Yuki Morikawa, Yu Inagawa

Featured Video:

Related Games:
Arcana Heart 3, Skullgirls, Persona 4 Arena, Blazblue: Continuum Shift 2, SNK Gals Fighters, King of Fighters XIII, Fate/Unlimited Codes, Guilty Gear XX: Accent Core Plus, Legend of Raven, Chaos Code, Under Night In-Birth

Gameplay Engine

Story / Theme

Overall Graphics

Animation

Music / Sound Effects

Innovation

Art Direction

Customization

Options / Extras

Intro / Presentation

Replayability / Fun

"Ouch" Factor

Characters

BOTTOM LINE

First Impression:
Personally, I'm not familiar with any of the characters or series represented in this game. I will say that the high-res 2D sprites look pretty slick and the gameplay & character designs looks halfway decent as well. The game even has some pretty epic super moves. If I ever get a chance to sit down with Aquapazza, I'll review it.

~TFG Webmaster