POSTED: Sunday, January 26th, 2020 (Jan. 27th, 2020)

TEKKEN 7 My Replay & Tips, Balance Patch Coming in Jan. 28th Free Update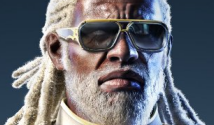 After the conclusion of TEKKEN 7's grand finals at EVO Japan 2020, Bandai Namco's Michael Murray announced the release date for TEKKEN 7 Season 3's new feature: My Replay & Tips, in addition to the next character balance update (Leroy nerfs incoming). My Replay & Tips mode automatically saves replay history and notifies the player about combo and punish opportunities while watching a replay. Players can also fast-forward to specific rounds and display frame data during replays. My Replay & Tips mode launches on January 28th, 2020. [UPDATE] Full patch notes for version 3.20 are posted here.


Keep it here on Fighters Generation for TEKKEN 7 Season 3 news.

Source: Bandai Namco
Related News: (12-20-2019): Ip Man, Donnie Yen's Wing Chun Influence on Leroy Smith,
(12-13-2019): Harada Wants to Know if Fans Still Want TEKKEN X Street Fighter,
(12-9-2019): TEKKEN 7 December 2019 Update 3.10 Full Patch Notes,
(12-8-2019): TEKKEN 7 Leroy Smith, Ganryu & Fahkumram Reveal Trailers,
(12-7-2019): TWT 2019 Finals Trophy, Devil Jin Pure Arts Statue,
(12-2-2019): TWT 2019 Finals Has $250k Prize Pool, Dec. Balance Update,
(12-2-1019): KOF x TEKKEN Crossover Now Live in KOF: All Star,
(11-15-2019): KOF: All Star x TEKKEN 7 Character Gameplay Trailers
Related TFG Links: TEKKEN 7, Leroy Smith

Visit SHOP TFG to check out
awesome and rare fighting
game items for sale on FightersGeneration.com!

*NEW ITEMS ADDED*
AUG. 12th, 2019!

✔ FOLLOW FIGHTERSGEN ON: