The King of Fighters 2003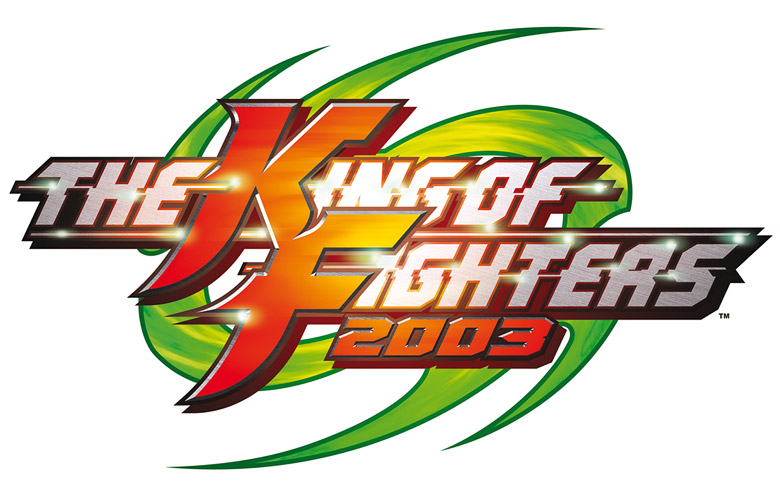 STORY: KOF 2003 begins a new story arc following the conclusion of the NESTS arc in KOF 2001. This story arc centers around a new lead character named Ash Crimson. Unlike the previous protagonists of the series, Kyo Kusanagi and K', Ash is a villainous character with a self-serving agenda, seeking to steal the powers of the Three Divine Vessels for himself.

REVIEW: The tenth installment of the series, The King of Fighters 2003 redefines the classic, tried-and-true 2D gameplay of the series with the all new "Multi-Shift" feature (AKA 3-on-3 tag team gameplay)! Along with this dramatic change in gameplay comes a fan-approved selection of new characters, including some epic crossovers from one of SNK's all time best 2D fighters, Garou: Mark of the Wolves! Tizoc & Gato definitely make awesome KOF characters and thankfully they play just like they do in Garou.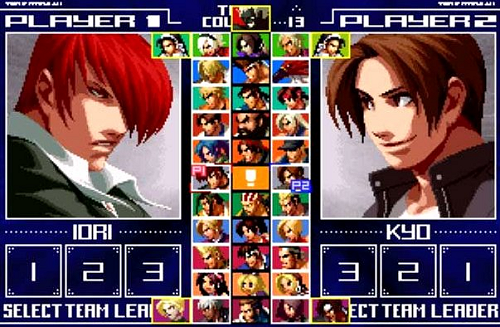 KOF 2003 selection screen... Welcome Team Garou: MOTW!


KOF 2003 also introduces the Tactical Leader System, in which one team member is designated by the player as the "Leader". The leader of each team is granted an exclusive move known as the "Leader Super Special Move" (in addition to their regular Super Moves). These moves usually require two Power Gauge stocks to perform. The Tactical Leader System definitely adds some different strategy to the gameplay, but it's slightly disappointing that only one of your team members can perform their strongest super move. One thing's for sure, it makes you want to use a lot of different teams.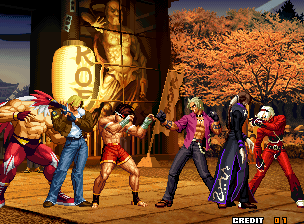 One big happy family?

The "old school" sprite-based graphics have undergone a slight, yet significant improvement. First off, the backgrounds show off a lot of detail and are well designed in general. They're actually some of the best looking backgrounds of the series. The super move effects have also been revamped, making them appear more epic and more painful than ever before. Several classic characters have also been given new animations, stances, and new even outfits this time around (such as Terry Bogard, now sporting his badass threads from Garou: MOTW).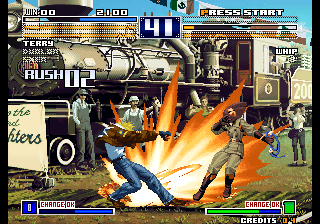 Bustah Wolf is in!


Even with the "dated look" that returning players might expect, KOF2003 at least manages to look like a new KOF game. Although the animation and sprites aren't nearly the most impressive we've seen in recent times, SNK's classic franchise looks, sounds, and plays better than ever. KOF2003 is definitely a worthy sequel on all levels.


Page Updated:
January 7th, 2023
Developer(s):
SNK NeoGeo
Publisher(s):
SNK Playmore
Artwork by:
Falcoon
Platform(s):
Neo Geo, PlayStation 2, PSN, Xbox
Release Date(s):
Dec. 12th, 2003 Arcade
Mar. 18th, 2004 / PS2
April 15th, 2015 PSN
Characters:
Ash Crimson, Malin, Duo Lon, Shen Woo, Kyo, Benimaru, Daimon, Terry, Tizoc, Gato, Joe, Leona, Ralf, Clark, Kim, Chang, Ryo, Robert, Athena, Mai, Yuri, King, Iori, Yamazaki, Mary, Billy, Shingo, K', Maxima, Whip, Jhun, Chizuru, Hinako, Adelheid, Mukai

Featured Video:

Related Games:
The King of Fighters XI, KOF 2002, KOF 2002 Unlimited Match, KOF 2001, KOF 2000, KOF '94, KOF '94: Re-bout, KOF '95, KOF '96, KOF '97, KOF '98, KOF '98 Ultimate Match, KOF '99, KOF XII, KOF XIII, KOF XIV, KOF XV, KOF: Maximum Impact, KOF: Maximum Impact MANIAX, KOF: Maximum Impact 2, KOF: Maximum Impact Regulation A, KOF: Neowave, KOF EX Neo Blood, KOF EX2 Howling Blood, KOF R1, KOF R2, KOF Collection: Orochi Saga, Garou Mark of the Wolves

Gameplay Engine

8.5 / 10

Story / Theme

8.5 / 10

Overall Graphics

8.0 / 10

Animation

8.0 / 10

Music / Sound Effects

7.5 / 10

Innovation

8.0 / 10

Art Direction

9.5 / 10

Customization

8.0 / 10

Options / Extras

8.0 / 10

Intro / Presentation

8.5 / 10

Replayability / Fun

9.0 / 10

"Ouch" Factor

8.5 / 10

Characters

9.0 / 10

BOTTOM LINE

8.8 / 10

Review based on PS2 version

Final Words:

KOF 2003's new Tag-Team gameplay mechanic breathed some new life into the series, keeping it competitive with the top 2D fighters of the genre. The character roster is another fairly strong point of KOF 2003 — featuring some great new additions, including a team from SNK's underrated gem, Garou: Mark of the Wolves (and it's about damn time)!

If the classic 1-v-1 KOF gameplay was at all feeling "stale" to you... KOF 2003's distinctive tag-team gameplay and refreshed character roster should be enough to bring you back to the series. Following KOF 2000 as one of my personal favorite installments of the series to date, I'd say KOF 2003 became my second favorite KOF game from that era. The newer character sprites look great, the soundtrack is nice, and the 2D background are spectacular! In my opinion, KOF 2003 and KOF XI were "peak" for the purely 2D era of KOF.
~TFG Webmaster | @Fighters_Gen