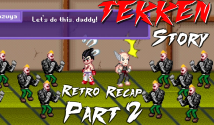 Remember the "TEKKEN Retro Story Recap" video we posted last month? Today, Bandai Namco released Part 2 of the Retro Recap series for TEKKEN 7, which sums up the Mishima saga storylines of TEKKEN 4, TEKKEN 5, and TEKKEN 6 in charming 8-bit style animation and sound. Once again, these movies are also unlockable within TEKKEN 7's Gallery Mode, along with many other cinematics and illustrations.


In case you missed Part 1... you can watch it HERE.

Stay tuned on FightersGeneration.com for continued TEKKEN 7 coverage. TFG's full review of the PS4 Pro version is currently in progress!