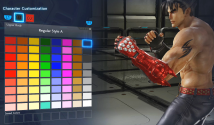 We're less than 2 weeks away from the biggest 3D fighting game release in quite a while. To help calm your anxiety (or possibly make it worse), today we have 2 brand new TEKKEN 7 videos worth watching. First up, Bandai Namco's official Character Episode Trailer #3 which introduces several more characters and teases some new story scenes. Next, TEKKEN 7 content creator Yellowmotion has uploaded an incredibly high quality video preview of the game running on PS4 Pro!


Yellowmotion's video preview (below) not only offers stunning video quality up to 4k resolution, but he previews several modes such as Customize (and Color Edit), Treasure Battle, Story Mode, and more.


Stay tuned on FightersGeneration.com for continued TEKKEN 7 coverage, along with our full review!