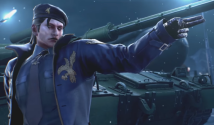 This morning, Bandai Namco released another Character Episode trailer, this time introducing Master Raven, Dragunov, Lili, Asuka, Leo, and Yoshimitsu. Just like in past Character Episode trailers, the end of trailer #4 teases several in-game story scenes. Additionally, Bandai Namco's official TEKKEN 7 website now includes storylines for all 37 characters in the game so far. You also might notice the trailer (below) features a remixed track of TEKKEN 5's intro song... possibly a theme for one of the new stages? (If not by default, I'll be adding that one via TEKKEN Jukebox.)


You can check out each character's official TEKKEN 7 storyline HERE... Of course, these storylines will be added to each character's official TFG profile in the near future!



Stay tuned on FightersGeneration.com for continued TEKKEN 7 coverage, along with our full review!