Saturday, June 3rd, 2017

Digital Foundry Compares TEKKEN 7 on PC, Playstation 4, PS4 Pro, and Xbox One, Early Input Lag Reports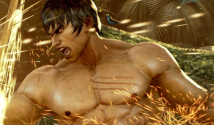 If you're wondering how each version of TEKKEN 7 stacks up graphically and performance-wise, Digital Foundry put together a very interesting video analysis. The full 13-minute video dives deep into TEKKEN 7's groundbreaking visuals, first outlining the upgrades of the 1080p PS4 Pro version over its "864p" PS4 counterpart. They also analyze the PC version's high end graphics settings for maximum quality visuals. The Xbox One version scored the worst, with the lowest graphical quality (720p) and the longest load times.


Thankfully, all 4 versions are locked at a constant 60fps and are, of course, very playable. Early reports from various players have also found some input lag issues. According to sources, the PS4 Pro version of TEKKEN 7 currently has 120.5ms of delay after an input. This is approximately 7.2 frames of input lag - which in comparison is a bit more than Tekken Tag Tournament 2 running on PS3 (which clocks in at only 5.7 frames of input lag). Interestingly, the Xbox One version only has 6.2-6.3 frames of input lag.

We will keep you updated on the input lag issue when more details become available. And hopefully, Bandai Namco will be able to remedy input lag in a future patch.

Stay tuned on FightersGeneration.com for continued TEKKEN 7 coverage. TFG's full review of the PS4 Pro version is currently in progress!

Sources: EuroGamer, DigitalFoundry, Avoidingthepuddle, Noodalls
Related News: (5-25-2017): TEKKEN 4 Character Episode Trailer #4,
(5-23-2017): TEKKEN 7 PC Specs, 3 Tutorial Videos from Bandai Namco,
(5-22-2017): TEKKEN 7 Character Episode 3, PS4 Pro 4K Video Preview,
(5-19-2017): TEKKEN 7 "No Glory For Heroes" English Story Trailer,
(5-17-2017): TEKKEN 7 Character Episode Trailer #2,
(5-12-2017): TEKKEN 7 Official Retro Story Recap Video (Part 1),
(5-9-2017): TEKKEN 7 PS4 Pro Bundle Announced for France, PS4 Pro Gameplay Vid,
(5-5-2017): Digital Foundry Posts TEKKEN 7 Gameplay Video, Graphics Analysis,
(5-3-2017): TEKKEN X NJPW / Bullet ClublShirts Now Available in North America,
(5-2-2017): May 2017 Tekken Talk with Namco, Markman & Maximilian
Related TFG Links: TEKKEN 7, TEKKEN 7: Fated Retribution

Visit SHOP TFG to check out
awesome and rare fighting
game items for sale on FightersGeneration.com!

*NEW ITEMS ADDED*
MAY 16th, 2017!

✔FOLLOW FIGHTERS GENERATION ON:





.