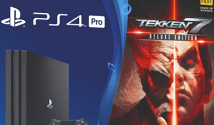 Playstation France has announced a PS4 Pro bundle featuring the Deluxe Edition of TEKKEN 7. No price point has been confirmed yet, but it should be noted that a PS4 Pro currently retails for $399 and TEKKEN 7 Deluxe Edition is $84.99. As previously reported, Harada stated in an IGN interview that TEKKEN 7's graphics will see a "noticeable" enhancement on PS4 Pro. There's no word on whether or not this bundle will see a release in other regions, but we will keep you updated.


[UPDATE] This afternoon, Maximilian posted a new gameplay video of TEKKEN 7 running on PS4 Pro. The video shows off every character's Rage Art (except Eliza's) along with every playable stage so far. As you can see by the video, the PS4 Pro version will be... "extra crispy".

(No mods or $1000+ PCs needed.)


Below is TEKKEN producer Katsuhiro Harada's original statement from IGN's interview regarding the graphical enhancements on PS4 Pro.


TEKKEN 7 releases on Playstation 4, Xbox One and Steam on June 2nd, 2017.