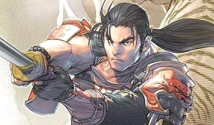 Bandai Namco made the surprise announcement of Soul Calibur 6 tonight during the Video Game Awards 2017. The announcement trailer confirms the return of Mitsurugi & Sophitia, and teases a new combatant at the very end. It's worth mentioning that Mitrurugi looks considerably "young" in the trailer... bearing a resemblance to his Soul Edge incarnation. Could SC6's timeline be set as a prequel? Like TEKKEN 7, Soul Calibur 6 will run on Unreal Engine 4. TEKKEN producer Katsuhiro Harada introduced Motohiro Okubo as the new producer for Soul Calibur 6. [UPDATE] 18 HD screenshots, high-res character artwork, first gameplay details, and an additional gameplay trailer from PSX '17 added below!


Veteran series artist Takuji Kawano is back to illustrate beautiful character artwork for Soul Calibur 6! We've already got incredibly high-res SC6 Mitsurugi and Sophitia artwork here... because, we're TFG.


[UPDATE] First Details: "The epic battle rages on as the greatest warriors continue their search for the legendary Soul Swords. Set in the 16th Century, the latest chapter will revisit events from the original Soul Calibur to uncover hidden secrets. Each player will soon come to realize that, History hides away more than one truth…

Powered by Unreal Engine 4, Soul Calibur VI will feature jaw-dropping graphics and visual effects. Classic characters like Mitsurugi and Sophitia are rendered at a level never before seen in the series. The highly detailed weapon effects and stages makes each 1 vs 1 battle feel dynamic and immersive.

The fast and kinetic gameplay of Soul Calibur returns alongside new strategic battle mechanics like, "Reversal Edge". This technique gives the player an opportunity to read an opponents' attack and land a powerful counter. Fans of the series will also enjoy the return of fluid 8-Way Run movement and the unforgettable Ring Outs.

Players can expect a diverse roster of warriors including fan-favorites and some fierce newcomers. Each character will have their own signature weapon, fighting style, and identity. Stay tuned as we'll have more updates on characters soon!" (Source: PS.Blog)


According to Bandai Namco, Soul Calibur VI will have an "epic" story mode, revamped gameplay mechanics, and "dynamic fights enhanced by cinematic-styled combat." One of the key new gameplay changes is the introduction of "Reversal Edge," which allows players to "defend against the opponent's attack and directly counter with a powerful strike highlighted through a dynamic camera."

"Two decades after its first iteration, Soul Calibur VI returns to its roots while bringing brand-new gameplay features to the fight," Bandai Namco says in a press release. "Travel through the signature 16th century stages and experience the struggle for the two legendary swords using a complete roster of returning iconic Soul Calibur characters, along with some newcomers." (Source: Gamespot)

Soul Calibur 6 is coming to Playstation 4, Xbox One, and PC sometime in 2018! Stay tuned on TFG's Preview Profile for Soul Calibur 6 for all the latest visual content and details. The Soul Still Burns...

Webmaster Comment: One of my all-time favorite franchises is back! Ohh the possibilities with this one... I hope it's fast and has deep movesets like Soul Calibur 2, yadda yadda. Now that that's out of the way, Soul Calibur 6 definitely looks like a reboot / prequel to me. Mitsurugi doesn't look that young by accident... Kid-surugi? It'll be cool seeing the returning veterans looking a bit younger if that's the direction they decide to go in (which would be a great direction IMO).

And guest characters? With Geese joining TEKKEN 7... anything's possible. Last year, Harada said he'd love to work on a new Samurai Shodown. How about some Samurai Shodown guest characters in SC6 then, which would fit perfectly with the Soul Edge timeline. Maybe bring in Cloud Strife and a Bloodborne Hunter as additional guest characters, and we're good.

I'm very excite. I can't wait to bring you Soul Calibur 6 TFG news articles in 2018!

Stay tuned on FightersGeneration.com for full coverage of Soul Calibur 6.