POSTED: Thursday, April 12th, 2018 (Apr. 17th, 2018)

Soul Calibur VI Siegfried Reveal Trailer, Screens, Artwork & First Storyline Details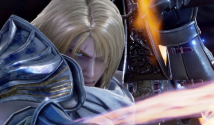 Today, Bandai Namco announced Siegfried Schtauffen as a playable character in Soul Calibur VI. This confirms that Nightmare and Siegfried will be different playable characters with unique movesets in the game. Below, check out Siegfried's reveal trailer, HD screenshots, character artwork, and first storyline details. [UPDATE] Higher quality Siegfried artwork added to the article.


Below are the first details on Siegfried's story in Soul Calibur 6.

After losing to Kilik and his comrades in the form of Nightmare, Siegfried awoke in an unfamiliar place and he is now unable to free himself from the unforgiving memories of his time spent as the cursed sword's puppet. The memory of having killed his own father is haunting him. His true nightmare has only just begun…Full of regrets, he is looking for redemption and he desperately wants to free himself from the cursed sword's grasp!

Stay tuned on FightersGeneration.com for continued coverage of Soul Calibur 6.

Source: Bandai Namco America
Related News: (3-28-2018): Soul Calibur 6 Geralt "Behind The Scenes" Showcase Video,
(3-15-2018): Geralt of Rivia Announced for Soul Calibur 6,
(3-14-2018): Noctis Joins TEKKEN 7 March 20th, New Trailer + Screens,
(3-3-2018): Soul Calibur 6 Nightmare Developer Diary Video, 4K Gameplay,
(2-22-2018): Ivy & Zasalamel Confirmed for SC6, Trailers, Artwork & Screens,
(2-1-2018): Kilik, Nightmare, Xianghua & Gr

ř

h Revealed for SC6,
(1-8-2018): Soul Calibur 6 All Mechanics Video Analysis
Related TFG Links: Soul Calibur VI, Siegfried

Visit SHOP TFG to check out
awesome and rare fighting
game items for sale on FightersGeneration.com!

*NEW ITEMS ADDED*
MAY 15th, 2018!

✔ FOLLOW FIGHTERSGEN ON:





.