Wednesday, March 28th, 2018

Soul Calibur VI Geralt of Rivia Showcase Video Featuring Commentary By CD Projekt Red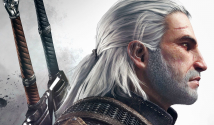 Bandai Namco released a 3-minute showcase video all about the first guest character coming to Soul Calibur VI, Geralt of Rivia. This collaboration video features commentary from the CD Projekt Red team (the creators of The Witcher series). In the video, Projekt Red talks details about Geralt's smooth transition over to the Soul Calibur series. Witcher series director Borys Muraszkiewwicz mentions in the video that Geralt's appearance in Soul Calibur could be considered an extension of part of the storyline of The Witcher 3.


Stay tuned on FightersGeneration.com for continued coverage of Soul Calibur 6.

Sources: Bandai Namco America, Playstation.Blog
Related News: (3-15-2018): Geralt of Rivia Announced for Soul Calibur 6,
(3-14-2018): Noctis Joins TEKKEN 7 March 20th, New Trailer + Screens,
(3-3-2018): Soul Calibur 6 Nightmare Developer Diary Video, 4K Gameplay,
(2-22-2018): Ivy & Zasalamel Confirmed for SC6, Trailers, Artwork & Screens,
(2-1-2018): Kilik, Nightmare, Xianghua & Gr

ø

h Revealed for SC6,
(1-8-2018): Soul Calibur 6 All Mechanics Video Analysis
Related TFG Links: Soul Calibur VI, Geralt of Rivia

Visit SHOP TFG to check out
awesome and rare fighting
game items for sale on FightersGeneration.com!

*NEW ITEMS ADDED*
JAN 9th, 2018!

✔ FOLLOW FIGHTERSGEN ON:





.