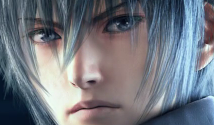 During today's Bandai Namco / Square Enix Stream, it was announced that Noctis and his Hammerhead stage will join TEKKEN 7 as DLC on March 20th! Additionally, a new Noctis gameplay trailer confirms he will have a variety of alternate costumes (5 to be exact). Noctis even has a brand new costume called "Fighting King's Raiment" which was designed by the TEKKEN Team. The Noctis DLC is included in the TEKKEN 7 Season Pass and can also be bought separately for $7.99 on PS4, Steam, and Xbox One on release day.

[UPDATE] 15 official HD screens added below! The latest batch of Noctis screenshots highlights his 5... yes, 5 alternate costumes. (Can't say Noct didn't come prepared for a fashion show!)

The names of his 5 outfits are as follows: Casual Outfit, Royal Raiment, Kingly Raiment, Choco-Mog Style, and Fighting King's Raiment (designed by the TEKKEN Team). Enjoy HD screenshots below of each costume.


Stay tuned on FightersGeneration.com for more TEKKEN news.