Thursday, March 15th, 2018

Geralt of Rivia from The Witcher Series Announced as a Guest Character for Soul Calibur VI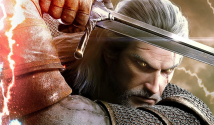 This morning, Bandai Namco officially announced Geralt of Rivia from The Witcher series as a guest fighter in Soul Calibur 6! Check out Geralt's reveal trailer, first screenshots, key artwork with Mitsurugi, and official character art. The Legendary "White Wolf" will bring his high-level swordsmanship and magical "Sign" attacks to the Stage of History to battle it out with Soul Calibur's veterans and newcomers! This article will be updated with additional images, details & official Geralt artwork later today.


Playstation.blog posted the first details about Geralt's Soul Calibur VI appearance. Here's their full write-up below:

"The legendary White Wolf returns! Geralt of Rivia steps on to the Stage of History in SoulCalibur VI!

Wielding his signature steel and silver swords, Geralt is prepared to take on any opponent (man or monster) who dares cross his path. Both witcher swords are made of the finest quality alloys and precisely crafted to suit the needs of their wielder. While we donít yet know why Geralt has entered another dimension, he was able to bring his weapons with him on the journey. The world he now finds himself in is filled with new foes and plenty of opportunities to fight!

On top of his swords, Geralt enters the ring armed with powerful Signs. From Aard to Igni, Geralt has the ability to unleash the devastating effects of Signs during one-on-one combat. Each Sign provides a different strategic opportunity to best your opponent or start powerful combos.

Geralt felt like a natural fit for the weapon based combat of SoulCalibur VI and the development team has worked meticulously to accurately depict his character in game. His swordplay and use of signs has all been balanced to mix seamlessly with mechanics like Critical Edge and Soul Charge. We all canít wait for both Witcher and SoulCalibur fans to harness the mutagen fueled power of Geralt of Rivia when SoulCalibur VI arrives on PlayStation 4 in 2018!"

Stay tuned on FightersGeneration.com for continued coverage of Soul Calibur 6.

Sources: Bandai Namco America, Playstation.Blog
Related News: (3-14-2018): Noctis Joins TEKKEN 7 March 20th, New Trailer + Screens,
(3-3-2018): Soul Calibur 6 Nightmare Developer Diary Video, 4K Gameplay,
(2-22-2018): Ivy & Zasalamel Confirmed for SC6, Trailers, Artwork & Screens,
(2-1-2018): Kilik, Nightmare, Xianghua & Gr

Ý

h Revealed for SC6,
(1-8-2018): Soul Calibur 6 All Mechanics Video Analysis
Related TFG Links: Soul Calibur VI, Geralt of Rivia

Visit SHOP TFG to check out
awesome and rare fighting
game items for sale on FightersGeneration.com!

*NEW ITEMS ADDED*
JAN 9th, 2018!

✔ FOLLOW FIGHTERSGEN ON:





.