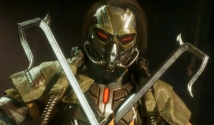 Today, NetherRealm Studios announced returning MK3 veteran Kabal as a playable character in Mortal Kombat 11. The first gameplay footage of Kabal was shown during this afternoon's Kombat Kast live stream, revealing a variety of Kabal's special moves and even his Fatality. The developers describe Kabal as a basic character who is "easy" to play as and is effective at mid-range using his Nomad Dash and buzz saw attacks.



In addition, NRS confirmed the return of D'Vorah by releasing this official image (below).


Stay tuned on FightersGeneration.com for continued coverage of Mortal Kombat 11.