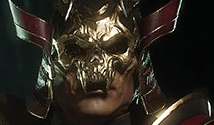 NetherRealm Studios shared a new image of the first DLC character revealed for Mortal Kombat 11, Shao Kahn. Originally announced as a pre-order bonus character for MK11, Shao Kahn was shown briefly in the Dec. 6th announce trailer, but can now be seen in more detail thanks to this new image. Additionally, new MK11 announcements are coming next Thurs, January 17th (11am PT) during a NRS special presentation. The official Mortal Kombat Twitter account said they'll be showing story mode, gameplay and character reveals on January 17th.

Here's the new image of Shao Kahn, below.

Stay tuned on FightersGeneration.com for continued coverage of Mortal Kombat 11.