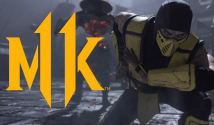 Ed Boon was in attendance at The Game Awards 2018 and dropped a surprise on everyone... Mortal Kombat 11 is coming out next year on PlayStation 4, Nintendo Switch, Xbox One, and PC. The game will be releasing on April 23rd, 2019 and there will be a community reveal event on January 17th. The first pre-order character was also announced today... those who pre-order the game will unlock the iconic MK2 boss, Shao Kahn. Below, check out the official announce trailer and first screenshots. *As you might expect, the trailer contains explicit scenes of violence and gore (NSFW).


Here are the first details on the game straight from NetherRealm Studios:

"The all new Custom Character Variations give you unprecedented control to customize the fighters and make them your own. The new graphics engine showcasing every skull-shattering, eye-popping moment, brings you so close to the fight you can feel it. And featuring a roster of new and returning Klassic Fighters, Mortal Kombat's best in class cinematic story mode continues the epic saga over 25 years in the making."

Below are the first screenshots of MK11 from the game's official Steam page. Take a look at all 7 screenshots in full quality, below!


Stay tuned on FightersGeneration.com for full coverage of Mortal Kombat 11.